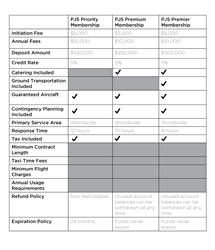 Seabrook, NH (PRWEB) February 17, 2015
Private Jet Services (PJS), a worldwide private aviation consulting firm, has announced its flexible PJS Jet Card Membership program that allows its members to earn 5% back on every flight.
PJS, unlike other private jet charter providers, has created a program that allows its clients to select a specific aircraft or jet size for every flight. The program boasts low membership fees, no blackout or peak dates and access to additional amenities like complimentary catering and ground transportation at Premium and Premier membership levels.
"We're excited about the level of flexibility and the amenities that we're offering to our jet card members. It's like having a fleet of 7,500 jets at your fingertips - unlike anything else that's out there in the industry," says Founder and CEO of PJS, Greg Raiff.
Some additional benefits include:

Access to over 7,500 different aircraft - of all types and sizes
Guaranteed availability & no blackout dates
No expiration date for Premium and Premier levels
No fractional ownership requirement
Worldwide service area
All base flight charges are included
Monthly statement detailing your account balance and all flight charges
Low membership fees
Funds held in escrow account at Shelby Financial
The new program consists of three membership levels - Plus, Premium and Premier and is available to PJS's worldwide client base immediately.
For more information on the PJS Jet Card Membership, please click here: http://www.pjsgroup.com/jet-card-membership/
ABOUT PJS: Private Jet Services Group (PJS) is a corporate aviation consulting firm providing mission-critical flight services to a global clientele of corporations, professional and collegiate athletic teams, live entertainment tours, governments, and others who recognize the cost of their transportation is far exceeded by the cost of failure. PJS procures on behalf of those clients both VIP and standard configured airliners, regional aircraft, as well as light, midsize, and large cabin executive jets. PJS maintains a repeat-client rate in excess of 90% and this strong client loyalty is the best indicator of PJS' specialization, performance and reliability. PJS acts as an agent for its clients in negotiating and facilitating transportation with licensed air carriers. PJS does not own or operate aircraft. 
For more information, http://www.PJSGroup.com
For further information, please contact:
Michael Friedman
Private Jet Services
T (603) 659-9870
Michael.Friedman(at)PJSGroup(dot)com