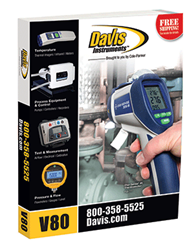 Vernon Hills, Ill. (PRWEB) February 16, 2015
With thousands of products designed to enhance efficiency and catalyze production, the new Davis Instruments V80 provides a single go-to sourcebook.
The nearly 1,000-page catalog includes an expanded selection of Masterflex® fluid handling products as well as new products including:
Digi-Sense® Precalibrated Infrared Thermometer saves energy costs and prevents problems by locating hot and cold spots. Valued by professionals in a variety of industries—from industrial maintenance to foodservice!
Oakton® Waterproof Dissolved Oxygen 450 Meter offers affordable RDO technology to reduce maintenance time and costs.
DualPulse Insertion Paddlewheel Flowmeters read wide flow ranges in a variety of low-viscosity liquids.
See these and many more industrial, laboratory, and process products by ordering a FREE V80 Sourcebook from Davis Instruments. To request, go to Davis.com/21353 or call 800-358-5525.
Davis Instruments has been one of the world's leading sources of test, measurement, control, and calibration instruments since 1912. With expanding capabilities in industrial spheres such as power and utilities, petrochemicals, aerospace and electronics production, field services, and construction, the organization continues to respond to technological demands. Based in Vernon Hills, Illinois, Davis Instruments is dedicated to providing customers with excellent service and product applications expertise. For more information, contact Davis Instruments, 625 East Bunker Court, Vernon Hills, IL 60061. In the U.S.A. or Canada, call 800-358-5525. International customers, call 847-327-2000. Visit us at Davis.com.