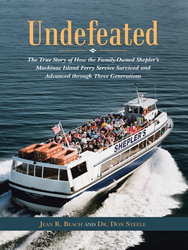 If you want something done, tell the Sheplers that they can't do it.
Mackinaw City, MI (PRWEB) February 17, 2015
The iconic mitten hand of Michigan reaches towards Mackinac Island, a beautiful and restful isle just north of the mainland. However, Michigan's hand is not the only one that has pointed to Mackinac Island.
Captain William H. Shepler also pointed to it when he dreamt of owning his own business—pointing to his destiny.
"Undefeated" is the real-life tale of the tremendous work, luck, danger and diligence of the Shepler family, who have owned Shepler's Mackinac Island Ferry service for three generations. The widely known ferry service to residents and tourists of northern Michigan has some little-known stories and secrets to tell.
"According to the Family Business Institute, only 12 percent of family owned businesses survive into the third generation," Dr. Don Steele said. "The Sheplers haven't just survived; they have flourished."
Steele is a co-author of "Undefeated," as well as a business and leadership coach. He was originally hired by the Sheplers to help them transition from the second to the third generation of family ownership. He found their story so inspiring that he wanted to share it.
"Their story is amazing," Steele said. "They have evolved from a single speedboat to a fleet of the most modern ferries in the business… in the face of hostile weather and business competition. If you want something done, tell the Sheplers that they can't do it."
The book documents a unique part of Michigan history and introduces a clan that is a lighthouse in the otherwise foggy world of family business.
For more information or to purchase a copy, visit http://www.sheplersferry.com/
"Undefeated"
By Dr. Don Steele and Jean R. Beach
ISBN: 978-1-4969-4734-5
Available in softcover, hardcover, e-book
Also available on Amazon, Barnes & Noble and AuthorHouse
About the authors
Dr. Don Steele is the chairman and CEO of My Resultants. An optimal performance coach and consultant, he has worked with professional athletes, entertainers and business executives on five continents.
Jean R. Beach is a freelance writer who has written extensively about Michigan and has worked at advertising agencies in Saginaw, Michigan and Manhattan, New York.
For review copies or interview requests, contact:
Matt VanScoik
317.602.7137 | mvanscoik(at)bohlsengroup(dot)com