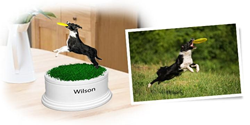 "When our beloved border collie Wilson passed away, we knew we wanted something special and personal to call attention to what an incredibly-special part of our life he has been." - Shannon R., Foreverence Pets customer
(PRWEB) February 18, 2015
From cars, cowboy hats, to the iconic Devo Energy Dome, Minneapolis start-up, Foreverence continues to help individuals and families celebrate lives with unique, keepsake memorials. The newest launch of the brand Foreverence Pets offers a new take on urns for dogs, cats, horses and pets of all kind. Foreverence Pets works with each individual or family to create an urn or keepsake that represents the remarkable story behind each companion animal.
Founders Pete Saari, Wally Danielson and Noah Miwa knew from the moment they began Foreverence that it wasn't about the technology used to create the urns, but the design process behind it all.
Foreverence Pets allows each customer to memorialize details of their pet's appearance, favorite activity or special object in addition to a pet's characteristics and personality. Our design team brings years of experience modeling and finishing three-dimensional images, which are brought to life using 3D printing technology.
"As individuals, we want to be remembered for the life we led— our experiences, triumphs and everyday actions that made us unique," states founder Pete Saari. "Similarly, our pets are an extension of us. They help to define and personalize our lives."
About Foreverence Pets:
At Foreverence Pets®, it all begins with a love for animals. They are more than a pet, they are life-long companions and family members. It is with this foundation and a creative design and 3D printing process that Foreverence Pets creates one-of-a-kind urns and memorials. Find out more at: foreverencepets.com and you can download the press kit here.