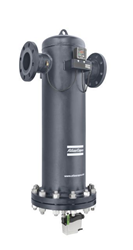 Rock Hill, SC (PRWEB) February 18, 2015
Atlas Copco continues to look for ways to serve customers faster and at the best cost, which calls for efficiency and speed. Atlas Copco's newly localized production of flanged filters in Houston helps do just that with improved delivery time and product flexibility.
"Localizing the filter production has given us flexibility and the opportunity to consolidate the welded filter designs for not only Atlas Copco but also for the other brands in our portfolio," said Ramsaran Palaniappan, project engineering supervisor. "We are now able to produce any type of filter in a very short lead time for any brand with a lot less ocean to between production and customer."
These filters, including high efficiency dust filters, liquid and aerosol removal filters, dust filters, and oil vapor and odor removal filters. In most applications, contamination of the air supply can cause serious performance decline and increased maintenance costs. Atlas Copco's filtration solutions provide compressed air purity that exceeds today's increasing quality demands.
This improved filter design ensures high filter efficiency, low pressure drop and guaranteed lifetime performance. Now that can be supplied with fewer components, and with better lifecycle costs.
Various size filters with flanged connections are available for 1,800 CFM to 10,500 CFM.
The Houston produced filters are robust and easy to maintain, and can be supplied with ASME National Board numbers for all the filter housings.
Filters from Texas are one way Atlas Copco is ensuring more efficient filter assembly and the best service and products to our customers.