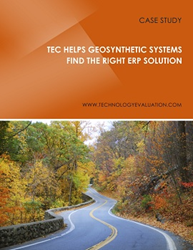 "TEC's project manager was able to demystify the language of software selection, as well as the phases of the selection process itself. We felt comfortable, and knew we were going to find the right solution." Geosynthetic Systems CEO Kelly Mulrooney-Côté
Montreal,Quebec (PRWEB) February 17, 2015
Geosynthetic Systems faced a difficult situation, one shared by many small and midsize companies—it needed to upgrade its patchwork of basic software applications to an integrated enterprise resource planning (ERP) system that would support its present and future growth. Lacking the in-house skills to conduct a successful ERP selection project, Geosynthetic Systems sought the assistance of TEC's software evaluation and selection experts.
Geosynthetic Systems, a family-run business operating out of Canada, is a B2B wholesale distributor specializing in soil conservation and management products used in landscape and heavy construction. As is often the case with modern enterprise software solutions, the more the company looked into the process of evaluating and choosing an ERP system, the more it realized how unprepared it was to deal with such a complex undertaking. Says company CEO and President Kelly Mulrooney-Côté, "We saw immediately that there was much more to selecting ERP software than meets the eye. We knew we were in deep waters, and clearly needed help."
The assistance Geosynthetic required was provided by TEC, a software advisory firm whose mission is to help organizations of all sizes find the best enterprise software solutions for their particular needs. TEC supplied both an experienced project manager and a proven, fully-defined software selection methodology to help Geosynthetic find the right ERP system. As Mulrooney-Côté points out, "TEC's project manager was able to demystify the language of software selection, as well as the phases of the selection process itself. We felt comfortable, and knew we were going to find the right solution."
Geosynthetic also made extensive use of TEC Advisor, a patented decision support application, which allowed the company to input it functional requirements in order to create a shortlist of best-fit ERP solutions. The company also took advantage of TEC's ability to manage the vendor demos, a process Geosynthetic had no previous experience with.
With TEC's assistance at every step along the way, Geosynthetic Systems was able to successfully narrow down the list of potential ERP solutions, and ultimately make its final selection.
Read the full case study on Geosynthetic Systems' ERP evaluation and selection project with TEC.
And for more information about TEC's software selection services, contact +1 514-954-3665, extension 404, or e-mail selectionservices(at)technologyevaluation(dot)com
About Technology Evaluation Centers
As the world's leading online provider of software selection tools, services, and research materials, Technology Evaluation Centers (TEC) helps companies and organizations evaluate and select the best enterprise software for their needs. With its software selection expertise and advanced decision-making software, TEC also helps reduce the time, cost, and risk associated with enterprise software selection. Today, TEC is recognized as an industry-leading software selection advisory firm with more than 400,000 subscribers to its information services and software evaluation and selection tools. For more information, please visit http://www.technologyevaluation.com.