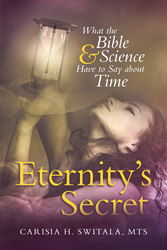 The truth about humanity's destiny depends on decoding time
WASHINGTON, D.C (PRWEB) February 17, 2015
The Bible, James 4:14, states, "Yet you do not know what tomorrow will bring. What is your life? For you are a mist that appears for a little time and then vanishes." If people are just mist, how do our lives fit into eternity?
Written by Harvard Divinity School graduate Carisia Switala, "Eternity's Secret" answers how a person could exist outside of ordinary conceptions of time. By combining biblical and scientific theories, this book explores possibilities of seeing the future, time travel and immortality. Switala says that combining the two disciplines can prove how one can live forever.
"I had an intense curiosity about time that led me down a path of exploring what the Bible and science have to say about the subject," Switala said. "After my time at Harvard, I began pursuing the ideas I had regarding time and continued doing research over many years."
After her mother's passing, she sought the answer to eternal life with a greater intensity. With her expertise in biblical exegesis, early Christianity, gnosticism, world religions and her research in physics, Switala claims to have uncovered answers to the mysticism surrounding time.
"The truth about humanity's destiny depends on decoding time," Switala said. "A good place to start is with the revelations of both religion and science."
Switala encourages readers to discover the mysteries of time and the secrets of eternity for themselves. Her combination of religous and scientific research, two subjects often thought of as mutually exclusive, brings new thoughts to the metaphysical marketplace of ideas.
For more information, visit http://www.carisiaswitala.com
"Eternity's Secret"
By: Carisia Switala
ISBN: 978-1-49-1175416-0
Available in softcover, hardcover, e-book
Available on Amazon, Barnes & Noble and iUniverse
About the author
The idea for Carisia Switala's book was conceived several years ago when she was a graduate student at Harvard Divinity School. She finally reached a point where she decided to write a book focusing on the insights and knowledge she had acquired from her scholarly pursuits. She lives with her husband, Lekan Obadeyi, near Washington, D.C.
# # #
For review copies or interview requests, contact:
Matt Van Scoik
317.602.7137
mvanscoik(at)bohlsengroup.com