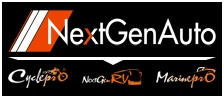 Introducing Industry's First Mobile based Real-Time Prospect Tracking Solution for Powersports,RV,Marine Dealerships
Dallas, TX (PRWEB) February 17, 2015
Halcyon Technologies, a global software solutions company with successful product lines in several different verticals, has announced the launch of NextGenAuto, LLC. NextGenAuto is targeting the Powersports, Marine, RV and Automotive vertical markets and has developed new and innovative mobile based solutions to decrease sales time and improve operational efficiency of the powersports dealer's sales team and operations.
"We launched NextGenAuto to address the needs of the Powersports, RV and Marine dealers,help them to stay competitive and be able to manage their operation more efficiently and effectively. Our NextGenAuto solutions provide interactive inventory management, real time prospect tracking, sales and consumer management tools to help dealers increase their profit margins" said Kartik Kakarala, CEO and Founder of NextGenAuto. "NextGenAuto solutions are a special breed of solutions that the market has never seen. With several decades of experience and after successfully launching several product companies we are now bringing some world class solutions to the powersports, RV and Marine dealers and their customers."
In a release, the Company noted, with NextGenAuto's solutions, Powersports, Marine and RV dealerships now possess the tools in the palm of their hand to manage their business more effectively, proactively, mining their own data for new sales opportunities, utilizing NFC technology with mobile devices to provide easy bump capability to pull up information on any unit in the Dealer's inventory, all of this using the Dealers' own DMS data.
Our solutions also provide real time session management with Live Dealer Dashboard features, allowing your team to measure and track sales progress, and display all current sales sessions via our solutions' dealership dashboard.
Most important, NextGenAuto consumer solutions provides the tools for dealerships to be more connected with their customers, providing a dealer branded consumer mobile application, allowing the dealer to interact with their customers directly through their customers' mobile devices. Our Mobile applications are launched in Apple, Android, and Windows platforms.
"Our tools can empower a Dealer's customers, providing them self service options such as scheduling appointments, managing their service records and even allowing consumers to solicit offers for their vehicles through the Dealer's branded mobile application," stated Mr. Kakarala.
Consumers are becoming increasingly savvy with mobile technologies. They use their mobile devices for shopping and banking, and it is only logical they manage their relationship with their dealers, whether they are Powersports, RV or Marine. NextGenAuto offers dealerships the opportunity to meet their customer's mobile needs and help reduce their operating costs by shifting actions to the consumers.
At NextGenAuto, our solutions are currently focused on the Powersports, Marine and RV industries, but we are always working to extend the functionality to improve all areas of the interaction between dealerships and their customers.