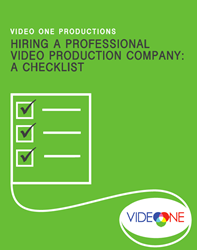 A few minutes taken to research the video production company can save you time, money and possibly your job!
Chicago, Illinois (PRWEB) February 18, 2015
Video One Productions, a preeminent Chicago video production company, has produced a consumer's guide to hiring a company or producer to provide video production services. Their guidelines are used by businesses, nonprofits and individuals to evaluate companies in this industry.
Free downloads of the guide are available at http://video1pro.com/resources/hiring-a-video-production-company-checklist/
You can also view the tips in video form on YouTube here:
https://www.youtube.com/watch?v=HA6FGucAUbk
The guide covers a variety of criteria such as asking for samples of the prospective company's work, how to learn about their reputation, knowing what should be in a proposal, plus many other concerns you may not have thought about.
For instance, the video proposal should explicitly give the customer all rights to and ownership of the video. Some companies and producers retain the raw and final footage and force their clients to buy the rights to use something they've already paid for! Irwin Myers, a 27-year video veteran with a consumer education background, says "there are literally hundreds of companies and individuals providing video production services in Chicago and you would be wise to take the extra time to carefully scrutinize anyone you are thinking about hiring".
Myers has seen quite a few disreputable, fly by night companies and producers take advantage of business people and others who are either over-trusting or not aware of how to separate the good from the bad. Myers warns, "not only does your choice come down to the quality of the producers work and your budget, but in certain circumstances, such as filming a live event, you only get one chance to get it done right. Making the best hiring decision is the first and most important step towards getting the job done right".
Myers recommends reading or viewing this material before signing on the dotted line, so that you don't fall prey to unscrupulous video producers.