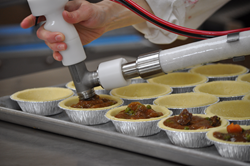 Vancouver, BC (PRWEB) February 18, 2015
Unifiller Systems UK Limited, in partnership with Unifiller Systems Inc., is pleased to announce the opening of their new 500 m2 facility in Wellingborough, Northamptonshire.
Equipped with the latest innovations in depositing technology, the facility houses a fully equipped test kitchen and product demonstration area. Nick Frost, Sales Director at Unifiller Systems UK Limited is excited about the change. "We couldn't be happier with the new location. It's central to many of our existing customers, allows us to house a larger inventory of machines and parts, and most importantly, we now have a test kitchen to conduct product tests - key to our customers' requirements and success."
Unifiller Systems is no stranger to the UK market, having sold and serviced portioning equipment in the UK for over 20 years. Founded in 1988, Unifiller Systems Inc. is a world leader in the manufacturing of depositors, pumps and food portioning equipment for the food processing and bakery industry. Recent expansions include global offices in Asia Pacific, Japan, Brazil and a dealer network representing new markets in Latin America, Asia and the Middle East. According to Stewart Macpherson, Owner and VP at Unifiller Systems Inc., "We're excited to announce our new opening and delighted with our UK team for their professional sales approach and customer support."
And to celebrate their success, Unifiller UK is hosting an open house this March 17 & 18, 2015, open to anyone interested in learning more about portioning equipment. Plan to see live demos of machines, enjoy snacks and drinks, tour the facility and network with others in the industry! To attend the Open House, RSVP to trudyF(at)unifiller(dot)com or call 01933 676005.