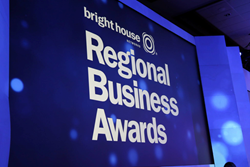 Tampa, Fla. (PRWEB) February 18, 2015
Nitro Mobile Solutions announced today that it was named a third place winner in Bright House Networks second annual Regional Business Awards. Nitro was named a finalist in the small business for the awards, which honored the companies, organizations and people throughout the Tampa community who have impacted, with their products, services, and thought leadership. Winning businesses were honored at a special celebration on February 5, 2015 at the Tampa Convention Center, which featured State of Florida Chief Financial Officer Jeff Atwater and NFL Hall of Famer Derrick Brooks as special guest speakers.
More than 350 businesses across central Florida were nominated or applied for this prestigious award. As a finalist in the competition, representatives from Nitro first had to submit an in-depth written application and then complete an in-person presentation and interview with a panel of judges. During these presentations, finalist teams were instructed to address the evaluation criteria of Vision, Growth, Stability, Innovation, and Community Involvement and demonstrate their leadership in these areas.
Bright House Networks has teamed up with Chambers of Commerce in Hillsborough, Pinellas, Polk, Pasco, Hernando, Citrus, Manatee and Sarasota counties to host the second annual event that connected local businesses in a celebration of best-in-class. Bright House Networks awarded prizes totaling over $1,000,000, including commercial TV production, airtime, customer newsletter, and cash.
The first annual Bright House Networks Regional Business Awards in Central Florida will take place on March 19 at the Church Street Station Ballroom in Orlando. For more information and to purchase tickets/tables, visit http://www.brighthouse.com/RBA.
About Nitro Mobile Solutions:
Nitro Mobile Solutions is an award-winning software development company providing enterprises and financial institutions with full-service native mobile applications and platforms. We provide our clients with the ability to build, edit and manage their mobile solutions—all within a single mobile infrastructure, and without the need for technical experience. Nitro uniquely delivers the complete mobile ecosystem you need. For more information, visit nitromobilesolutions.com and connect with us on: Facebook | Twitter | LinkedIn | Google+
About Bright House Networks
Bright House Networks is the sixth largest owner and operator of cable systems in the U.S. and the second largest in Florida, with technologically advanced systems located in five states including Florida, Alabama, Indiana, Michigan and California.
Bright House Networks serves approximately 2.5 million customers who subscribe to one or more of its video, high-speed data, home security and automation and voice services. The company also offers a strong portfolio of customizable, advanced business solutions for video, voice, data, cloud-based and managed services. The company is MEF-certified and also recently received the Cisco® Master Service Provider Certification under the Cisco Cloud and Managed Service Program, the first cable operator in the United States to achieve this designation. Bright House Networks also owns and operates exclusive, award-winning, local news and sports channels in its Florida markets. For more information: brighthouse.com. Follow the conversation at #BrightHouseRBA. Let's connect: House2House, @BrightHouseNow, Facebook and LinkedIn.