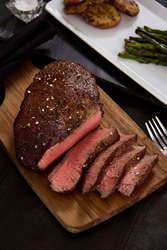 Our goal is to constantly evolve and remain conscious of our guests' needs, said co-owner Tony Rastelli.
Marlton, NJ (PRWEB) February 24, 2015
Rastelli Market Fresh has announced the addition of Glatt Kosher Black Angus Beef products to their stores. Produced by Glattko, a leader in premium Glatt Kosher meats, the line represents one of the largest Glatt Kosher offerings from a non-Kosher specific store in the area. Rastelli Market Fresh stores have built a strong reputation in the Southern New Jersey area for their premium meat and seafood selection. However, this is the first full scale Glatt Kosher program of its kind for the company.
"Our goal is to constantly evolve and remain conscious of our guests' needs, which can include everything from health related dietary restrictions and specialty product demands to personal taste preferences and religious belief based products," said co-owner Tony Rastelli.
While admittedly, the store cannot address each and every customer request, they do take customer feedback into careful consideration when making decisions on product lines and vendors.
"Our store is a reflection of our customers. They want quick and easy access to fresh, specialty foods in the same one-stop shop where they purchase their staples," said Director of Operations, Chris Mentzer. "Their input, gathered everywhere from in-store surveys to our Rastelli Market Facebook Page, helps to drive our product mix, specials and menus."
Recognizing the needs of the surrounding community was a driving force behind the development of the Rastelli Market Fresh store's new Glatt Kosher Black Angus Beef program. More than 25% of South Jersey's Jewish population lives in relative proximity to the store; located in the former Genuardi's location on Route 73 in Marlton (710 Route 73 South).
"The Rastelli's experience in understanding and adhering to the nuances of traditional cuisines as well as the culinary differences and regulations unique to ethnic and religious groups around the world makes Rastelli Market Fresh a natural partnership for Glattko," noted Rabbi Aharon Chein. Rabbi Chein is a SKO Supervisor and the official Glattko representative tasked with overseeing the production of Glatt Kosher meats for Rastelli Foods.
The Rastelli Market Fresh team hopes that through its partnership with Glattko and Rabbi Aharon Chein, guests looking for premium Glatt Kosher products will respond to the convenience of getting their entire grocery shopping list completed in one place.
###
About Rastelli Market Fresh:
Rastelli Market Fresh is one of two retail channels under Rastelli Foods Group. With the flagship location in Deptford, NJ, the newly designed Marlton store is an expansion of the original concept with 35,000 square feet of Grocery, Made to Order Concepts, Catering and a Café/Lounge. The Market Fresh stores blend specialty food items and hand-cut meats with staple grocery products and prepared meals for the ultimate foodie experience.
Rastelli Market Fresh stores feature a variety of food and beverage options:

On Site Butcher and Fresh Meats

Fresh and Frozen Premium Seafood
Artisan Deli Meats and Cheeses
Gourmet Desserts & Fresh Baked Bread
Fresh Made Sandwiches
Full Service Catering
Prepared Foods
Made to Order Salads
Grocery Items
Gift Baskets
Note: The Marlton store also includes a full Wine, Beer and Spirits selection as well as a Sushi Bar, Taqueria and indoor/outdoor seating.
About Glattko:
Glattko Foods proudly delivers the highest quality Glatt Kosher meat and food products on the market. The essence of our premium brand is to provide top quality Black Angus beef; preserving the natural quality and taste inherent to the breed.
The technical definition of Glatt Kosher is meat from animals with smooth or defect-free lungs, but today the term is often used informally to imply that a product was processed under the highest standard of Kashrut – similar to the term Mehadrin (Hebrew letters in SKO – Strictly Kosher Organization Logo). The word Glatt means smooth in Yiddish.