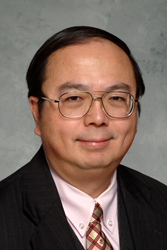 Dr. Tung holds a PhD in Chemical Engineering from Rensselaer Polytechnic Institute and an MBA from the University of Michigan-Ann Arbor.
Warrendale, PA (PRWEB) February 16, 2015
Simon C. Tung, PhD, Global OEM Technology Manager with Vanderbilt Chemicals, has won the SAE International Leadership Citation. Dr. Tung will receive the award during the SAE 2015 World Congress, which will be held April 21-23, 2015, in Detroit.
Established in 1988, this citation was created to provide public recognition to an individual known internationally for continuous professional leadership and participation in SAE International's meetings, conferences, congresses and/or unique assistance and support in helping SAE International achieve its goals and objectives, either in the broadest sense or related to one specific conference abroad.
Dr. Tung holds a PhD in Chemical Engineering from Rensselaer Polytechnic Institute and an MBA from the University of Michigan-Ann Arbor. He has been involved in the automotive industry since joining General Motors Research Laboratories in 1982. While there, Dr. Tung led pioneering research and development on automotive powertrain tribology and lubrication engineering, and he was appointed as Technical Fellow to lead the advanced energy efficient lubricant technology and discovery research programs in the General Motors R&D Center in 2003. In 2008, Dr. Tung joined the Industrial Technology Research Institute as General Director, where he managed all R&D programs in the Energy and Environmental Research Laboratories. He made significant contributions in the research areas of green energy, energy storage system, hydrogen energy, biofuels, and greenhouse emission reduction; and his technical expertise included powertrain tribology, automotive lubrication, energy technology, and surface engineering.
Dr. Tung has 186 publications that appear in seven different professional journals; covering such diverse subjects as automotive engineering, advanced materials, surface engineering, powertrain tribology, lubrication, and manufacturing. He also holds 25 U.S. and International Patents on novel tribological materials and innovation methods for reducing friction and wear in powertrain components and manufacturing process.
He has received many distinguished honors, including being named an SAE Fellow and a Fellow in the Society of Tribologists and Lubrication Engineers. In addition, Dr. Tung has received the Gold Award from the Engineering Society of Detroit; and he was honored with both SAE International's Edward N. Cole Award and SAE Franz F. Pischinger Powertrain Innovation Award .for automotive engineering innovation during the SAE 2011 and 2013 World Congress. He co-authored and co-edited the reference handbook "Automotive Lubricants and Testing," published by SAE and ASTM in 2012.
SAE International is a global association committed to being the ultimate knowledge source for the engineering profession. By uniting over 143,000 engineers and technical experts, we drive knowledge and expertise across a broad spectrum of industries. We act on two priorities: encouraging a lifetime of learning for mobility engineering professionals and setting the standards for industry engineering. We strive for a better world through the work of our philanthropic SAE Foundation, including programs like A World in Motion® and the Collegiate Design Series™.