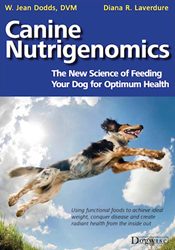 You can't change your dog's genes, but you can help change how those genes behave with optimum nutrition.
Wenatchee, WA (PRWEB) February 17, 2015
"Canine Nutrigenomics: The New Science of Feeding Your Dog for Optimum Health", the newest book by W. Jean Dodds, DVM and Diana R. Laverdure (Dogwise Publishing, 2015) reveals how vibrant health begins in the cells, and how dog lovers can transform their canine companions' cellular health with the power of nutrigenomics. Nutrigenomics (a combination of the words nutrition and genome) is the study of how the foods people and their pets eat "speak" to their cells to regulate gene expression, which in turn plays a huge role in determining whether a person or animal will live a life of vibrant health, or one plagued by illness.
Scientists now know that while we can't change the genes we are born with, we can change how those genes behave, which is exactly what the authors show readers how to do. Examples of the information readers of "Canine Nutrigenomics" will learn include:

How to tell which foods create optimum gene expression and vibrant health at the cellular level and which foods lead to chronic disease.
The amazing healing power of functional foods.
The "Three Keys" to easily creating a foundation canine diet based on the principles of nutrigenomics.
How to use functional ingredients to treat, manage and even reverse a wide variety of chronic canine health conditions.
The 10 "canine functional superfoods" and how they can supercharge a dog's health by optimizing his gene expression.
The signs of a food intolerance/sensitivity and how to stop it in its tracks.
To purchase "Canine Nutrigenomics: The New Science of Feeding Your Dog for Optimum Health", visit Dogwise Publishing.
For more information or to request an author interview, contact Kristy Allen at kristya(at)dogwise(dot)com or call her at 800-776-2665 x 124.
About "Canine Nutrigenomics: The New Science of Feeding Your Dog for Optimum Health":
Author: W. Jean Dodds, DVM and Diana R. Laverdure
Price: $24.95
Binding: Paperback, 7" x 10", 323 pgs, Indexed
ISBN: 9781617811616
Available: Immediately Item #DN334