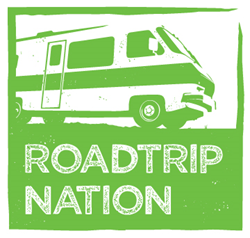 "Showing students the path between their current interests and a career helps to motivate them to graduate from high school. They can see what steps they need to reach their goals," said Nicole Anderson, Executive Director of Philanthropy at AT&T.
Costa Mesa, CA (PRWEB) February 17, 2015
Through AT&T Aspire's collaboration with Roadtrip Nation, a career exploration organization, two of Roadtrip Nation's iconic Green RVs will hit the road for the official 2015 AT&T Roadie tour, starting in February. Traveling across the country, this time with both an east and west coast team of "Roadies", 60 events will continue to unfold throughout the spring semester, inspiring students who are at risk of dropping out with the self-discovery tools needed to define their own professional roads.
"Showing students the path between their current interests and a career helps to motivate them to graduate from high school. They can see what steps they need to reach their goals," said Nicole Anderson, Executive Director of Philanthropy at AT&T. "Roadtrip Nation is an excellent guide for students at any stage of their personal career journey. We're excited to help bring the green RV to new places around the country and, ultimately, start the engine on more students reaching their destinations."
Roadtrip Nation is a self-discovery movement that encourages young people of all backgrounds to align what they are naturally interested in with a potential career down the road. The organization airs an educational TV documentary series that features preselected students and jobseekers who are at an inflection point, as they embark on an authentic cross-country journey aboard Roadtrip Nation's iconic green RV. The "road-trippers" cold-call and book interviews with accomplished leaders from a diverse range of industries, learning first-hand the obstacles the leaders have faced and how they've attained success in their fields of interest.
The live school presentations introduce the philosophy of Roadtrip Nation to students at risk of dropping out, encouraging them to explore their personal interests and define their own roads in life. Roadies get the students excited about their upcoming Roadtrip Nation curriculum by screening exclusive footage from the road, empowering them with their own personal stories of success, and hosting live onstage interviews with local leaders who also share their journeys to success. Former Major League pitcher Jim Abbott, Louisiana State Representative Ted James, New York Times writer George Vecsey, Complex Magazine marketing executive LaToya Shambo, are among many who will participate in the tour and speak with the students.
AT&T Aspire, AT&T's signature education initiative, contributed $1.5 million to Roadtrip Nation this year. With a targeted goal to help students graduate from high school prepared for college and the workforce, the program and collaboration aims to encourage students to overcome their current obstacles and pave their own professional paths.
"The heart of our program is to allow students to map their interests to future pathways in life," said Mike Marriner, Co-Founder of Roadtrip Nation. "With AT&T Aspire's support, we are excited to continue to distribute our curriculum to students who need it most across the country."
Roadtrip Nation's vast interview archive and exclusive content, which contains video interviews with thousands of successful real-world leaders spanning every industry, allows students to learn the steps each of these leaders took to bring them to where they are today. Throughout the curriculum, students connect to an online student community where they can share their projects and connect with like-minded peers who share similar goals from across the country. With growing platforms reaching diverse demographics, the University of Southern California has recently highlighted Roadtrip Nation as one of the most influential entities transforming education today.
About Philanthropy and Social Innovation at AT&T
AT&T Inc. is committed to advancing education, strengthening communities and improving lives. Through its community initiatives, AT&T has a long history of investing in projects that create learning opportunities; promote academic and economic achievement; or address community needs. In 2013, more than $130 million was contributed or directed through corporate-, employee-, social investment- and AT&T Foundation-giving programs. AT&T Aspire is AT&T's signature education initiative that drives innovation in education by bringing diverse resources to bear on the issue including funding, technology, employee volunteerism, and mentoring.© 2015 AT&T Intellectual Property. All rights reserved. AT&T, the AT&T logo and all other marks contained herein are trademarks of AT&T Intellectual Property and/or AT&T affiliated companies.
About Roadtrip Nation
Roadtrip Nation creates self-discovery resources designed to help young people build fulfilling lives and careers around their interests. Combining self-reflection with real-world exposure, Roadtrip Nation tools enable youth to connect their interests to relevant life pathways and stay engaged with their futures.
For more information, visit roadtripnation.com and roadtripnation.org.
Follow Roadtrip Nation's current educational initiatives on Twitter at @RoadtripEDU and #IAspireTo
Follow AT&T's Citizenship & Sustainability team on Twitter at @ConnectToGood and #ATTimpact
###
Press Contact:
Roadtrip Nation, Loureen Ayyoub
(949) 764-9121 x207
loureen(at)roadtripnation.com