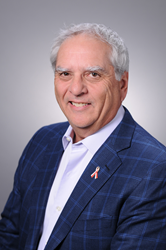 Rockville, MD (PRWEB) February 16, 2015
Local periodontist Dr. Steven Rice recognizes American Heart Month in February with education about some of the little known dangers of living with active gum disease. He explains that the periodontal disease that Rockville, MD residents suffer from is not only a risk to the health and stability of the teeth and gums, but it presents dangers to other parts of the body as well. Studies indicate that patients with active gum infection in the mouth face higher likelihood of heart disease and heart attacks, among other serious health risk. The bacteria that cause gum disease can access the bloodstream through the gums and teeth, and then travel throughout the body where it can damage organs and cause complications with conditions ranging from diabetes to pregnancy.
Traditional treatment for serious gum disease cuts away damaged tissue with a scalpel to remove areas of infection. The invasive surgery and recovery is typically difficult and lengthy for the patient. Now Dr. Rice offers laser gum surgery that treats gum disease effectively and quickly, with no cutting and stitching.
Periodontal disease in Rockville, MD is a serious problem that affects nearly three out of every four adults. Symptoms may be easy to dismiss in the early stages, such as:

Painful or irritated gums
Reddened gum tissue
Bleeding gums when brushing or eating
Persistent halitosis
Receding gum lines
Loosening teeth
While many of the signs of gingivitis progress slowly, the damage that the bacteria wreak on delicate gum tissue and connective fibers continues to progress if left untreated. As periodontal disease in Rockville, MD develops unchecked, pockets of infection along the gum line harbor germs that thrive with poor dental hygiene or irregular dental care.
This American Heart Month, arm yourself with information and awareness to fight periodontal disease in Rockville, MD. Learn more on the Web at http://www.advancedgumsurgery.com. For details about the LANAP® protocol laser gum surgery or to schedule a consultation, call (240) 747-7355.
About the Practice
Advanced Laser Gum Surgery- Institute of Washington is a periodontal practice offering patients personalized dental care in Rockville, Maryland since 1981. Dr. Steven N. Rice received a Doctor of Dental Surgery degree from the University Of Maryland School Of Dentistry. He continued his education as a General Practice Resident in the United States Army, where he was awarded a Medal of Commendation. He studied periodontics at the Medical College of Georgia and was recognized as a Diplomate of the American Board of Periodontology upon completion. Dr. Rice is part of one percent of dental professionals providing the LANAP® FDA cleared laser procedure for gum disease treatment. To learn more about Advanced Laser Gum Surgery Institute of Washington and their dental services visit their website at http://www.advancedgumsurgery.com and call (240) 747-7355.