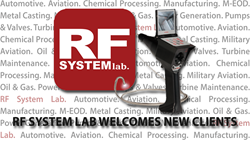 Traverse City, Michigan (PRWEB) February 18, 2015
RF System Lab, maker of the groundbreaking VJ-Advance (VJ-ADV) video borescope, is proud to announce new VJ-ADV customers in a multitude of industries. RF System Lab's newest customers include companies from the aviation, manufacturing, automotive, and weaponry industries.
RF System Lab is excited to add the following companies to its roster of satisfied customers for the first month of 2015.
One of RF System Lab's customers representing the aviation industry is Embraer. Embraer is a Brazilian aerospace conglomerate that provides aeronautical services and produces military, executive, commercial, and agricultural aircraft. Embraer is using the 3.9mm diameter VJ-ADV for turbine inspections; one of the most popular uses for the articulating inspection camera. RF System Lab is proud to have one of the biggest names is aviation as one of its first customers in the New Year.
From the Automotive Industry, Valiant Machine & Tool is another company that purchased a VJ-ADV in the month of January. Valiant Machine & Tool, a Tier 1 Automotive supplier, required an inspection camera for internally inspecting small oil passageways on engines. They selected the VJ-ADV video borescope for its extremely thin diameter and 360 articulation; perfect for easily navigating small passageways.
RF System Lab is looking forward to returning to The Chem Show this year, especially after meeting one of the company's newest clients, Kopetz Manufacturing, at the 2013 show. Kopetz Manufacturing, a custom plate fabrication facility, is using the VJ-ADV to perform quality checks to confirm the internal quality of tubing. Kopetz Manufacturing creates products using high-grade alloys, so it is imperative that their final products are also of the highest quality. The VJ-ADV internally inspects the tubing to ensure that are no traces of FOD or cracks. The VJ-ADV easily illuminates the inside of the tubing with its variable LED lighting and makes quality checks stress-free.
Another new VJ-ADV videoscope user, representing the Aerospace industry, is North Star Aerospace. All equipment used for testing purposes within Northstar Aerospace must meet stringent requirements. The VJ-ADV exceeded all of the requirements and was an easy decision based upon the ease of use, price point, and customer service offered. RF System Lab is glad that the articulating VJ-ADV is an addition to the testing equipment used by a company that strives to provide service beyond expectations.
ATK, a global leader in the defense and weaponry industries, is a company that RF System Lab is proud to have as one of last month's customers. ATK is using the VJ-ADV for weapon barrel inspections. They required a portable, reliable unit to internally inspect weapons in the field. The handheld VJ-ADV, which runs on standard AA batteries and weighs in at only 23oz, was the perfect fit.
RF System Lab would like to extend a thank you to its first clients in 2015, as well as all additional clients not listed here. If maintenance professionals would like to demo the VJ-Advance video borescope, you can sign up for a no-cost, no-obligation demo program. For more information on RF System Lab, please visit their website or call 855-787-6966.