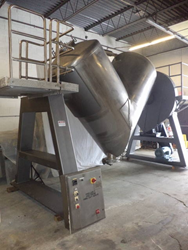 (PRWEB) February 19, 2015
Wohl Associates, Bohemia, NY-based specialists in used processing and packaging machinery, add a 100 Cu.Ft used tumbling blender to their inventory. This large "V" configuration blender was manufactured by Gemco of New Jersey, a long-established and highly regarded producer of blenders and dryers.
Tumble blenders mix powders quickly and they do this without any of the shearing action associated with paddles or screws. Lacking internal agitators, they are easy to clean and have low energy consumption. Last used in the pharmaceutical industry, this particular used tumbling blender offers a capacity of 100 Cu.Ft and has a maximum density of 115 pounds/Cu.Ft. Blended powder discharges through a 10 inch diameter butterfly valve at the apex of the "V".
Fabricated in stainless steel, the blender is mounted on a substantial stand and driven by a 20 hp motor. A 3 phase, 60 Hz electrical supply is needed at 208-230-460 Volts. If required for loading access, a mezzanine access staircase can also be supplied.
Interested buyers may also want to look at the four used 1,500 gallon dual motion vacuum cooking/cooling kettles in Wohl Associates' inventory. Manufactured by Lee and previously used in the food industry, these Model 1500 U9MS kettles have 316 stainless steel three-zone jackets. Providing high levels of heat transfer for heating or cooling, these are rated for 150 psi. Internally, the kettles are rated at 15 psi/full vacuum.
Each kettle has the Lee-designed four inch, flush-mounted center ball valve that ensures complete discharge. A top-mounted 20 hp motor provides agitation.
Pictures of both the used tumbling blender and the large cooking/cooling kettles may be viewed on the Wohl Associates website, http://www.wohlassociates.com. Buyers finding these are not an exact match are advised to consult with a Wohl Associates product specialist regarding the availability of similar items of processing equipment.
About Wohl Associates
Wohl Associates is a leading dealer in the used processing and packaging machinery industry. With a history and solid reputation spanning over 40 years, they have earned the trust of their clients by offering quality pre-owned equipment, expert customer service and invaluable knowledge to their customers. They treat each customer on an individual basis and customers are provided the highest level of service. With a large inventory including cartoners, ribbon blenders, stainless steel tanks, unscrambling tables, colloid mills and vitamin manufacturing equipment.
Wohl Associates has the pre-owned machinery to fit any production line. To view their inventory and learn more, visit them at http://www.wohlassociates.com/.