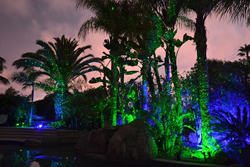 San Diego, CA (PRWEB) February 17, 2015
This Spring, homeowners can brighten up their homes with the thrilling effect and amazing ambiance that only lights can give. With BlissLights, rich color and stunning holograms work to create stunning ambiance at the simple flip of switch.
Initially created to illuminate theme park attractions, and now sharing the screen in upcoming Stephen Kramer Glickman film, The Greys, BlissLights are the real deal. Handcrafted in San Diego, CA with an intense attention to detail and strong commitment to quality, each hologram is unique and translates that uniqueness into an enchanting show. Designed to enhance any event, Bliss Lights offers an array of products that set up minutes for a magically transformed wedding, birthday party, fairy garden, romantic surprise and more. Even swimming pools can morph into stunning illuminated art.
The possibilities are endless. From laser lights to holograms and LED, BlissLights transform trees, walls, bedrooms, game rooms and backyards into dazzling displays of light that guests won't soon forget. With easy-to-use accessories like the clip, extender and timer, BlissLights are the perfect accent for indoors and outdoors. Children can even get a soothing night light that surrounds them with dream-like stars. It's no wonder TIME Magazine named BlissLights one of the most eye-catching booths at CES this year.
A family run enterprise, BlissLights has been creating a new standard in lighting since 2007. Started in a garage with the intention of bringing happiness into the world through the wonder of light, BlissLights is continuously developing and improving amazing lighting products that span from commercial to the home.
For more information, visit http://www.blisslights.com.