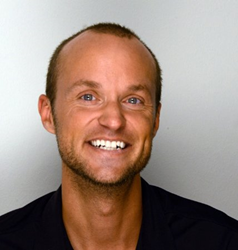 Austin, TX (PRWEB) February 18, 2015
MU/DAI, one of North America's fastest-growing digital innovation and design firms, headquartered in Chicago, announced today that it has acquired Austin-based Deft Strategy and will be opening an office in downtown Austin. Additionally, MU/DAI has made a key market hire in former Sapient director and frog design alum Dwayne Stoltz, who will lead the charge as general manager.
Since its inception, MU/DAI has added top talent from Sapient, Fjord and Manifest Digital, among others. By acquiring Deft and hiring Stoltz, MU/DAI continues to extend its reach in high-growth and talent-rich markets, building its impressive team, service offering and client roster.
"As a design firm that tackles our clients' biggest challenges, we're continuously looking at markets that have the best and brightest people," said PJ Bickett, MU/DAI president. "After vetting several opportunities, we're fortunate to have found an amazing combination in Dwayne, Deft and the incredible talent in Texas."
The Austin office, with Stoltz at the helm, will serve as the Southwest hub for MU/DAI, which has existing client relationships in the region.
"I've been very blessed to have had the opportunity to open new offices and extend the footprints for multiple agencies, including frog and Sapient," said Stoltz. "Design as a differentiator is on the mind of every CEO, CMO, CTO and CINO, and MU/DAI is well positioned to grow and deliver winning solutions in this region. I'm extremely excited to join this talented team and to focus on humanizing digital and practical design thinking."
Deft's co-founder and advisor, Christian Barnard, will remain on with MU/DAI as a key advisor and brand ambassador.
"This is a great moment for Deft to not only continue serving its clients, but to be part of a much larger movement with world-class talent under our new banner, MU/DAI," said Barnard. "Getting to know PJ and the leadership team during the past several months has given me complete confidence in the future of MU/DAI and being on the right side of this opportunity."
ABOUT MU/DAI
MU/DAI is a next-generation digital design firm that helps start-ups to Fortune 500 companies identify and launch valuable, viable and sustainable experiences through practical innovation. Headquartered in Chicago, with presences in Los Angeles and Austin, MU/DAI's seasoned practitioners have expertise in connected devices, wearable technologies, mobile app design and development, product/interaction design, creative strategy and production, content strategy and development, design research, product innovation and e-commerce.MU/DAI humanizes digital by design. For more information, visit http://www.mudaidesign.com.