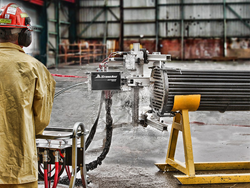 The StoneAge machine works great in acid service and has allowed us to become 100% automated.
Durango, CO (PRWEB) February 18, 2015
StoneAge is pleased to announce the release of the AutoBox ABX-2L Automated Flex Lancing System, specifically designed for hands-free heat exchanger tube cleaning applications with an emphasis on safety, portability, and usability. When paired with StoneAge Banshee rotary tube cleaning nozzles and our new lightweight positioner, the ABX-2L is a turnkey solution for safe and efficient tube cleaning in the harshest exchanger environments.
The benefits of automated waterblasting are well documented to include increased operator safety as well as productivity. With the AutoBox ABX-2L, the operator controls the exchanger cleaning process with StoneAge's newly redesigned control box from a remote position outside the danger zone of pressurized equipment and process chemical splashback. Therefore, the requirements for personal protective equipment (PPE) are diminished, along with fatigue, heat-related illness, and frequent staff rotations. Unlike hand-driven lancing, the feed rate of the AutoBox system is precisely controlled, delivering thorough, consistent cleaning to every tube throughout the bundle.
The AutoBox ABX-2L also offers a number of productivity features unique to the industry. It is resistant to corrosives making it a suitable solution for caustic environments where other automated equipment can fail. "The StoneAge machine works great in acid service and has allowed us to become 100% automated," stated Mark Blanchard, Owner of Waterworks Industrial Services in Geismar, LA. Waterworks specializes in exchanger, tank, and pipe cleaning and has been proactively adopting automated technologies since 2005.
A complete ABX-2L system is made up of modular components, each weighing less than the 50-lb maximum lifting capacity specified by many plants. "Everything is portable enough to carry," said Earl Madere, Business Development Manager of StoneAge, adding that the portability and compact design of the system enables operation in locations that may have previously been accessible only for manual lancing.
StoneAge's approach to engineering combines practical functionality with thoughtful design to produce highly effective and usable equipment. The ABX-2L comes with an integrated lance guide and positioner that enables simple and accurate indexing and pitch adjustment on the fly. The positioner rails can be coupled to expand to different exchanger sizes and come with a variety attachment options. "StoneAge has done a great job of building a lightweight frame that's easy to mount on an exchanger," reported Doug Mcgee of Evergreen Industrial Services in La Porte, Texas. Noting the built-in capability for hands-free shotgun cleaning of the bundle face and components once the system is positioned, Mcgee continued, "You can set it up, hook your hose to it and stand back. Eliminating any kind of manual hydroblasting is a tremendous advantage."
For Waterworks Industrial Services, the ABX-2L has delivered a safe work environment, production increases up to three-fold over prior cleaning methods, and predictably consistent cleaning rates. "What that does for us is allow our customer to put his equipment back in service faster," concluded Blanchard.
Plants and contractors interested in learning more about automated exchanger tube cleaning with the AutoBox ABX-2L hose handling system can visit http://www.stoneagetools.com/abx-2l.
About StoneAge
StoneAge, Inc. is a leading manufacturer of high-pressure waterblast tools and automated equipment for industrial companies and contractors worldwide. Our focus is on developing the highest quality products for industrial, sewer, and downhole cleaning as well as custom equipment for application-specific challenges. All equipment is backed by StoneAge's world class customer service. Units and parts can be shipped same day. Access to our engineering team and technical staff means your questions are answered when you need help. Visit http://www.stoneagetools.com for information.