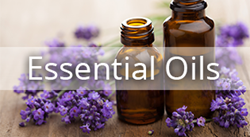 Modern consumers are drawn to essential oils as an effective alternative to drugs and other traditional treatments
Orland Park, IL (PRWEB) February 17, 2015
Diana Sourek, MS, CNC, Certified Gluten Practitioner and manager of New Vitality Health Foods, Inc. began, "The use of plant extracts for medicinal, cosmetic, and dietary purposes has a rich history that continues to evolve. Technology has unleashed sophisticated means for distilling plant materials and isolating their essential oils. The use of essential oil and the science behind it is an exciting field that has gained increased popularity."
What Are Essential Oils?
Essential oils are the lipid soluble mixtures of volatile aromatic compounds found in plants. They are distilled from the plant and isolated in a pure yield using various collection methods (steam distillation, cold pressing, solvent extractions, etc). Each essential oil is made up of a wide variety of functional chemical constituents that give its unique aroma and therapeutic properties.
How Essential Oils Work?
Through the sense of smell, essential oils affect our physiology, emotions, and behavior by stimulating hormones and neurotransmitters. Until recently, science has underestimated the influence aroma can have on our health. Numerous studies have been conducted investigating the effect of aroma to reduce anxiety, alleviate stress, improve mood, and decrease the perception of pain. Additional, several essential oils have antibacterial proprieties. For example, blending pine oil, eucalyptus oil and hyssop oil can help elevate asthma and breathing difficulties. (2)
Sourek added, "The evolution of essential oil use encourages many people to seek alternative options for their own wellness. Modern consumers are drawn to essential oils as an effective alternative to drugs and other traditional treatments."
How Essential Oils Can Be Used?

Diffusion: Diffusion provides continues distribution of the oil's scents and active constituents. Diffusion is an effective a noninvasive way to reap the benefits of essential oils. Single oils can be diffused or combinations of essential oils can blended for a variety of therapeutic benefits. (3) New Vitality Health Foods, Inc. carries essential oil diffusers and an assortment of NOW Essential Oils. The experienced New Vitality Health Foods, Inc. staff can assist customers in the sectional of essential oils that can appropriately address their health concern.
Skin Applications: Certain oils can be applied directly to the skin. It is very important to use caution and research the oil before applying directly to the skin. 100% essential oils are highly concentrated and often need to be diluted for safe topical use. Pure essential oils are often diluted in carrier oils, such as almond or jojoba. New Vitality Health Foods, Inc. carries a wide assortment of carrier oils. Diluting essential oils reduces the concentration but increases the absorption, allowing the body to still benefit from the effects of the oils. Massaging the oils into the skin or making a hot compress can help increase absorption and enhance benefits.
Bath and Cosmetic Additions: Adding a few drops of lavender, chamomile, eucalyptus or other essential oils to a warm bath can yield relaxation. As with all highly concentrated essential oils, be cautious when allowing any essential oil to come into contact with the skin. They can cause irritation and discomfort. Many Epson salt baths include essential oils in order to increase its therapeutic properties. Additionally, products such as body washes, shampoos, and moisturizing lotions often contain essential oils.
"As with any nutritional supplement, homeopathic remedy, or essential oil, it is important that the product be built from quality ingredients. Unfortunately, some companies use inferior products or do not follow strict quality control. Our customers can rest assured that if a product is on our selves, it has met our strict quality standards. New Vitality Health Foods, Inc. carries NOW Essential Oils. The integrity of essential oil source and extraction process NOW follows, makes them a superior product," remarked Sourek.
What Differentiates NOW Essential Oils?
The integrity of an essential oil is determined by the botanical from which it was derived, proper harvest, and gentle extraction methods to bring the finished products to life. NOW Essential Oils are tested using Fourier Transform Infrared Spectroscopy and Gas Chromatography to ensure the highest retention of active aroma therapeutic constituents.
New Vitality Health Foods, Inc. advises checking with your physician before using essential oils if you are pregnant, or beginning a new supplement regimen.
About New Vitality Health Foods, Inc.:
Established in 1988, New Vitality Health Foods, Inc. provides Chicagolands' largest selection of allergy-free foods that have met their high standards for taste, quality, and nutrition. New allergy-free foods are introduced weekly. They also carry frozen foods, vitamins, herbs, homeopathic, aromatherapy, body care, pet care, household items and much more. New Vitality features only the highest quality, effective nutritional supplements to support their customers' total health. New Vitality Health Foods, Inc. is located at Orland Park Crossing, 14225 S. 95th Avenue Suite 410, Orland Park IL, 60462. (708) 403-0120 http://www.newvitalityhealthfoods.com
Sources:
(1)https://www.aromaticscience.com/education/#/education/01/04/03
(2) http://www.now-university.com/Search/?search=Essential%20Oil%20Blends