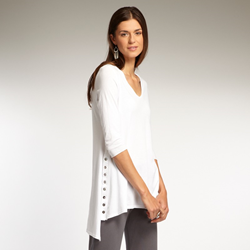 (PRWEB) February 17, 2015
At Indigenous, they take the road less traveled in the fashion world. From the land to the loom to the hanger, they've made a conscious decision at each step of the way to stay true to quality and sustainability. Their use of natural and organic fibers coupled with fair trade practices with artisans around the world, has created a movement in eco-friendly fashion that's in line with one's style sense and moral code.
As 2015 begins, now is the time to embrace the fabric of humanity with the fresh pieces from Indigenous' Spring Collection. This season is focused on chic staples with a bohemian flair. They've designed flowing skirts and elegantly draped tops that are cozy and casual when worn at home or on-the-go, yet can easily make the transition to business ready with a tailored blazer or smart pumps. Flattering neutrals dominate their color palette, but are enlivened with pops of blue for easy integration into her daily wardrobe.
Their commitment to using pesticide-free fibers and low-impact dyes results in garments that are good for one's health while leaving as small of an environmental footprint as possible. Natural fabrics including organic cotton, organic alpaca, merino wool, and silk exude luxury while lending softness to each handmade piece. These beautiful textiles are then passed to passionate artisans who lend their expertise to the process. 2015 may have only just begun, but Indigenous can't wait to unveil even more eco-friendly fashions this year - including a summer collection that features neutrals enlivened with "bright" hot pinks, electric teals, and brilliant lime colors.
For two decades, Indigenous has kept communication and collaboration open with their production partners and artisan workshop leaders throughout South America. Founders Scott Leonard and Matt Reynolds launched the brand and have continued to drive it forward in the hopes that their fair trade and organic practices become the norm instead of the exception in the fashion world. "No one should suffer or die to make clothes" says Leonard. "Instead, they should prosper."
For additional information, please visit indigenous.com.