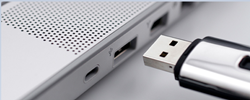 New York City, New York (PRWEB) February 19, 2015
Zecurion, a leading developer of information protection solutions, has announced the launch of beta testing for Zecurion Zlock Mac, its groundbreaking new version of endpoint network control system developed specifically for Mac OS.
Apple's exponential growth in the corporate sector over recent years has led to an increased risk of data loss from Mac workstations. This has created the need for additional protection of corporate information. Given the growing demand for a data protection system among Macintosh users, Zecurion developed a special version of Zecurion Zlock, a solution already popular with corporate users. Zlock Mac will control the use of different USB-devices and block leakage of sensitive data from workstations that are running Mac OS X Mountain Lion, Maverick and Yosemite.
Just like the Windows version, Zecurion Zlock for Mac allows the user to create flexible security policies for different types of USB-devices, different groups and individual users. Besides giving the option to either allow or restrict the use of USB, it also allows partial access in read-only mode. Policy management for both Mac and Windows-based platforms is handled through a single DLP-solutions management console, which greatly simplifies the work of security administrators.
Beta-testing for Zecurion Zlock Mac began on February 04. To participate, please fill out the request form on the company's website, in the section "Zecurion Zlock Mac Beta Testing". Every beta tester will have an opportunity to receive the new version, and the most active participants will be awarded valuable prizes!
For all questions related to the beta test, please write to betatest@zecurion.com.
Participation Rewards
To reward for your time, all beta testers will have the opportunity to receive a free new version of Zeсuriоn Zlосk Mac, as well as other valuable prizes. The prizes will be awarded to the most active participants. Candidates for the award will be determined based on the following criteria:

Apple Macbook Air 13, for the most active user who tests all scenarios and emails results with detailed error information as judged by Zecurion.
Smart Clock (i'm Watch), for the user who sends the most critical errors, as judged by Zeсuriоn.
Zeсuriоn Backpack, for users who give valuable feedback, as judged by Zeсuriоn.