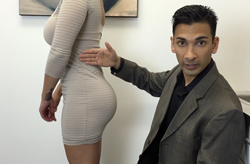 It's not a size contest. We want to add more volume but also create beautiful contours with the Brazilian Butt Lift.
Beverly Hills, CA (PRWEB) February 17, 2015
"This year, having an ample, beautiful butt continues to be a standard of beauty that's in demand among women of all ages," says plastic surgeon Dr. Dennis Dass who specializes in the Beverly Hills Butt Lift. "Media coverage of celebrities with ample buttocks has definitely made having a Brazilian Butt Lift into a sort of fashion statement to be flaunted," says Dr. Dass. "In my practice, I'm seeing women from their 20's to their 50's who are interested in buttock augmentation, but are seeking a natural-looking result."
"It's not a size contest," says Dr. Dass. "Many of my patients tell me that they consider having a Brazilian Butt Lift to be a milestone in their lives, something that they and their partners can enjoy while improving their self-confidence."
"While patients want a bigger butt, I show them that proportions are also important. I can augment a woman's buttocks in a way that will compliment her body type, striving for results that not just increase volume, but will also create the beautiful contours that will look attractive whether she is wearing a dress, pants, a swimsuit or nothing at all," says Dr. Dass.
"To achieve the best results proper 'harvesting' and transfer of the patient's own fat to the buttocks is done in a way to maximize survival of the transferred fat," says Dr. Dass. "By injecting small volumes of fat taken from the patient's abdomen, flanks or other areas I am able to create a tiny waist and add the desired volume and shape to the buttocks. Women emerge with a perfect hourglass figure that is very attractive, but never overdone."
For more information or to arrange a consultation on the Brazilian Butt Lift, call the Beverly Hills office of Dr. Dennis Dass at (855) 496-4646 and visit http://www.DassMD.com
Dennis Dass, MD is a board certified plastic surgeon who specializes in the Brazilian Butt Lift. Dr. Dass is certified by the American Board of Plastic Surgery. He is also an active member of the American Society of Plastic Surgeons (ASPS).
#####