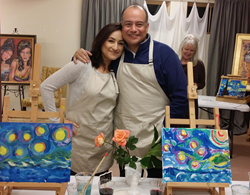 "I'm bored with the deification of artists. I'm grateful people value what I do. Yet we are all creatives! I find that if one loves visual art, then s/he has an artist residing within. My goal is to nurture that person's inner muse.
Santa Fe, NM (PRWEB) February 19, 2015
Santa Fe, New Mexico is a cultural center for the visual arts, yet has never offered tourists the simple opportunity to explore their own creativity – until now! In this luxurious, artistic haven, Santa Fe Art Classes now offers art and painting classes for everyone at Robbi Firestone's Art Sanctuary. Create. Smile. Repeat.
Many visitors not only want to consume art, but also want to explore making their own. In the past, they have had nowhere to take a painting class. Santa Fe Art Classes provides professional artists to teach painting classes for the novice, the seasoned, and the creatively inclined to come paint, smile, and just have fun.
Renowned oil portrait commission artist Robbi Firestone's mission is to inspire and empower people to live more authentic, creative lives every day. Recognizing a glaring hole in Santa Fe's art marketplace, Firestone is fueling her passion to serve the local and visiting community of Santa Fe by launching SantaFeArtClasses.com.
Firestone says, "I'm bored with the deification of artists. I'm grateful people value what I do. Yet we are all creatives! I find that if one loves visual art, then s/he has an artist residing within. My goal is to nurture that person's inner muse."
Santa Fe Art Classes is in a summer long, strategic alignment "Summer of Color" with Museums, the New Mexico Department of Cultural Affairs, and Santa Fe's best hotels, who agree that Firestone's classes offer an opportunity of economic as well as creative growth.
Even before the unofficial launch in December 2014, Robbi Firestone and Santa Fe Art classes was featured in LA Travel Magazine's Ultimate Holiday issue as a "must do" destination in Santa Fe. The article suggests a day relaxing at an award-winning spa and then exploring and creating in Firestone's 2-hour, guided art class called "Paint Moment."
Linda Pedelty, a corporate team leadership specialist notes, "As a leadership development professional with 15+ years under my belt, I've seen my share of "team building" experiences, offering everything from cooking to bicycle building. Santa Fe Art Classes is that unique one that will truly inspire minds and open hearts – one that I anticipate people will remember for years after attending. I can't wait to get my clients there!"
Firestone's studio provides the perfect backdrop for enriching creative energy. Coined the Art Sanctuary, it's a luscious, playful space to embrace creativity, hang out with friends, meet muses, and explore making art – perhaps for the first time. Firestone is fierce about maintaining an open atmosphere and hires only the most capable, supportive, inspiring teachers to maintain this environment of fearless creativity and individual choices – so each painting differs from their neighbors.
Teachers Lisa Adams Reed, Brianne Janes, Jean Oppermann, and Robbi Firestone each have an average of 15 years teaching experience and will be holding 3-6 art classes a week throughout the year. $45.00 buys a 2-hour art class, all supplies, and step-by-step instruction while encouraging freedom. Private and Corporate bookings are also available.
Firestone says, "Art school killed the artist within me for a decade. The culture of Santa Fe Art Classes is simple: I only allow uplifting, supportive commentary. Our creative selves are vulnerable so I fiercely protect this vulnerability, crafting classes that only allow for creative expansion."
Linda Pedelty notes, "With her unique background and skills, Firestone's venture is grounded in the business world and inspires playfulness and open heartedness. She allows people to reach beyond the limits of usual thinking to find a renewed sense of creative capacity – while creating art, or working in offices! I'm over the moon that Robbi is in our own backyard!"
Paint Moment's class description reads: "Never touched paint? An experienced painter? The 2-hour, step-by-step, guided painting class inspires your inner artist! Purple rather than blue? Go for it! Bring friends and transform a humdrum evening into an unforgettable, creative adventure and take home your own painting. Become a part of Santa Fe's rich cultural heritage by creating and taking home a mini-masterpiece to LOVE. Bring a bottle of wine!"
Robbi Firestone is a fine artist, currently creating an installation piece titled Infertility Rosary which examines the dark shadows of femininity: infertility. It balances the cult of woman as creator while investigating strength and biological lineage. The piece provokes catharsis for viewers. The Infertility Rosary uses paraphernalia from Firestone's personal In Vitro-journey and is on view while being constructed at her gallery.
Concurrently, Betsy Chasse, producer/writer/director of "What the Bleep Do We Know?," is shooting a documentary about Firestone's installation. It is focused on bravery and voicing difficult, core truths of infertility, as Firestone shares that which is inherent, inherited, and bone-deep amongst all women.
Visit the Santa Fe Art Classes calendar to sign up.
Private, corporate, and holiday bookings available. Call Robbi(at)RobbiFirestone(dot)com