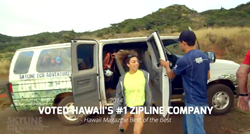 Skyline Kauai is the newest and most thrilling zipline experience in Hawaii
Kauai, Hawaii (PRWEB) February 17, 2015
Skyline Eco-Adventures, Hawaii's leading commercial zipline company and operator of the first zipline course in the United States launched a new promotional video showcasing Skyline's Award Winning Kauai, Poipu Hawaii Zipline Tour. Skyline Kauai is an exhilarating 8-line zipline tour that allows guest to soar above Kauai's lush mountain valleys with majestic views of the Kauai coast located high above the Poipu, Kauai resort area.
Opened in July 2013, Skyline Kauai is the newest and most thrilling Zipline tour on Kauai and offers guests two tour options including a 5-line tour for guests age 8+ and 60lbs – 260lbs and Skyline's award winning 8-line tour for ages 10+ and 80lbs-260lbs. Skyline's Kauai, Hawaii tour features Hawaii's only "plank" zipline experience. Guests also enjoy the convenience of Skyline's retail store and check in location at the upscale Shops at Kukui'ula in Poipu minutes away from most Kauai hotels and condos.
For more information on Skyline's Kauai Zipline tour visit zipline.com/kauai or call (808) 878-8400. Skyline's Kauai, Poipu tour is located just outside the Poipu resort area on the Island of Kauai.
Skyline Eco-Adventures was recently named among Hawaii Business magazine's 2014 Best Places to Work in Hawaii for the seventh consecutive year. Skyline was also selected among more than 100,000 picks in HAWAI'I Magazine's second-annual Reader's Choice Awards, earning top 2014 honors in three categories: No. 1 Zipline Company; No. 1 Zipline Course, Ka'anapali, Maui; and No. 1 Land Activity/Adventure Tour Company.
Skyline Eco-Adventures is a leading commercial zipline company that thrills more than 60,000 guests annually with "knock-your-socks-off" experiences. As the first commercial zipline operator in the United States, Skyline also specializes in the comprehensive design, development and operation of world-class zipline adventures. Skyline operates two Maui zipline tours at Ka'anapali and Haleakala, in addition to the Akaka Falls Skyline Adventure on Hawaii Island, and the Poipu Skyline Adventure on Kauai. Call (808)878-8400 or visit http://www.zipline.com.