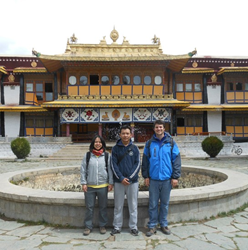 Lhasa, Tibet (PRWEB) February 21, 2015
Lhasa based travel agency Tibet Ctrip Travel Service-TCTS (http://www.tibetctrip.com) is making Tibet budget travel possible for the 2015 travel season. In as little as four days, travel groups can visit some of Lhasa's most famous cultural sites and attraction then have a chance to enjoy Tibet's natural beauty. TCTS matches small groups of travelers keeping per person costs low while retaining the quality of a private tour.
Arriving by air is by far the best value for the amount of travel time required. While train ticket costs may be lower, the ride lasts anywhere from 24-48 hours.

Day 1: Arrive in Lhasa. The group's guide will meet them at the airport and accompany them to their hotel. Once settled in, be sure to drink lots of water and avoid intense physical activity. The air in Tibet is far thinner than other travel destinations.
Day 2: Sightseeing. Most begin their tour with a visit to Potala Palace, and then it's a short walk to Jokhang Temple. This is likely to be the highlight of the budget Tibet tour; these are among the most important cultural sites in all of Tibet.
Day 3: More sightseeing. On this day, some travelers choose to take a day trip to Lake Namtso while others will visit Drepung Monastery in the morning and Sera Monastery in the afternoon.
Day 4: Depending on travelers' departure time, they may be able to do some last minute shopping and exploring before heading out. The group's guide will see them off at the airport shuttle stop in Lhasa.
Travelers who take even just a few days to visit Tibet will be rewarded with fantastic sights along with an introduction to Tibetan Buddhism and local culture. To help ensure the most authentic experience and flexible schedule possible, TCTS prefers to keep the group size small while matching travel groups to make the trip more affordable. With the 2015 travel season right around the corner, now is the time to start planning a tour!