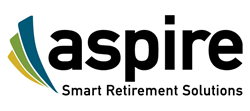 "Aspire's unique service model supports any plan type leveraging our customized proprietary technology and flexible private-label capabilities positions us to excel in the BPO space."
Tampa, Flordia (PRWEB) February 17, 2015
Aspire Financial Services, a leading service provider of smart retirement solutions, announces the appointment of Steven Shackelford as Senior Vice President Strategic Sales to lead the company's business process outsourcing (BPO) sales efforts. In this role, Steven will be responsible for growing Aspire's BPO offering by implementing sales strategies designed to reach companies that are seeking ways to cost effectively outsource administration functions to focus more on their core competencies.
"In today's highly regulated and competitive markets, financial institutions are finding it challenging to manage their core business while keeping pace with technology, increased operational demands, and controlling costs," says Steven. "The Aspire brand was built on providing innovative, cost-effective and strategic retirement business solutions to service the growing demands of our partners and I look forward to advancing the long-standing commitment to meeting the needs of Aspire's clients and their respective customers."
Steven comes to Aspire with more than 27 years in the financial services industry and has a proven track record of successfully delivering customized solutions across all facets of the retirement spectrum. Most recently, Steven served in strategic and executive roles for PAi. Prior to PAi, Steven held various sales and operational leadership positions with the Capital Group and American Funds.
According to Pete Kirtland, Chief Executive Officer, "Aspire's ability to support virtually any plan type leveraging our highly customized proprietary technology and flexible white-label service delivery model uniquely positions us to excel in the BPO space. With Steven's proven track record and deep domain expertise within the retirement industry—we now have an experienced leader capable of capitalizing on this growing demand – we are delighted to have him on the Aspire team. "
Aspire—Delivering Smart Retirement Solutions
Aspire Financial Services, LLC is a leading service provider of smart retirement solutions. Serving the industry for over 12 years with a conflict-free, open-architecture retirement planning management system, Aspire offers the most extensive capabilities nationwide for all plan types [401(k), 403(b), 457, IRA, and Defined Benefit] and all retirement plan stakeholders. Aspire provides a best-in-class technology-enabled portfolio of pre-defined or highly customizable smart retirement solutions with private-label branding options through its proprietary technology platform and strategic partnerships. Aspire links the retirement planning community together to deliver smart solutions for any plan type independent of average account balance or plan size—enabling our partners and customers with strong economic value and competitive advantage through a cost-effective transparent pricing structure and fully built operational model. To learn more about Aspire's unique capabilities that deliver smart retirement solutions, visit http://www.aspireonline.com or call 866.634.5873.
# # #