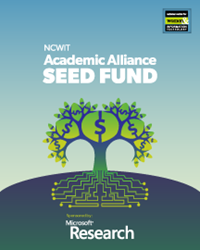 These engaging activities and opportunities of the Seed Fund ... contribute to the critical need of adding more women to the pool of CS degree recipients.
Boulder, Colorado (PRWEB) February 17, 2015
The National Center for Women & Information Technology (NCWIT) today awarded $40,000 to the eleventh-round recipients of the NCWIT Academic Alliance Seed Fund. Sponsored by Microsoft Research, the Seed Fund provides non-profit, U.S. academic institutions with startup funds to develop and implement initiatives for recruiting and retaining women in computing fields.
With Microsoft Research's support, the NCWIT Academic Alliance Seed Fund has awarded 43 institutions with $505,450 to grow their technology-related outreach programs. Initiatives include professional development, mentoring and networking opportunities, hands-on training, workshops, and more. (http://www.ncwit.org/seedfund)
"These engaging activities and opportunities of the Seed Fund can increase women's confidence and enjoyment of their tech-related studies, create a sense of belonging and identity as a member of the field, and provide everyday examples of computing applications," said Lucy Sanders, NCWIT CEO and Co-founder. "These factors contribute to the critical need of adding more women to the pool of CS degree recipients."
The U.S. Department of Labor predicts that there will be approximately 1.2 million computing-related job openings by 2022. At the current rate, U.S. computing undergraduates could fill only 39% of these jobs. Furthermore, in the U.S. in 2012, women earned 57% of all undergraduate degrees. Yet, women earned less than one-fifth of all computer and information sciences undergraduate degrees and engineering degrees. Discover more statistics about women and IT at http://www.ncwit.org/scorecard.
"Creating the innovations required to solve the world's most difficult challenges requires us to have more diversity of thought within our engineering and research teams," said Rane Johson-Stempson, Principal Research Director, Microsoft Research. "We are honored to work with NCWIT's Academic Alliance to support these institutions as they try innovative solutions to expand the number and roles of women in computing."
Following are the recipients of the eleventh round of the NCWIT Academic Alliance Seed Fund. Each U.S. institution will receive $10,000 in support of their recruitment and retention efforts:

Embry-Riddle Aeronautical University, Daytona Beach will help fund a woman's engineering institute to recruit and retain female undergraduate and graduate students. The program will provide female students with unique mentoring and networking opportunities and will connect them with industry partners who are looking to hire recent female graduates.
The University of Maryland, College Park aims to host five workshops for high school and undergraduate students to kindle interest in computing fields. The workshops include hands-on activities involving web development, app development, Internet protection, grad school applications, and job interview exercises.
The University of North Carolina at Greensboro, in collaboration with Kennesaw State University, plans to host a three-day program that provides rising female sophomore students with an opportunity to get a head start on programming skills. The program aims to foster female students' interest in information systems through engaging in hands-on projects, mentoring and networking with IT professionals, and socializing with their peers.
The University of Texas at Dallas (UTD) intends to facilitate a summertime, residential, overnight camp experience for incoming freshmen female students who have been accepted to UTD for the fall semester. The program will help develop a community for attendees to meet faculty, do hands-on activities, and network with career professionals.
The Seed Fund is an award of the NCWIT Academic Alliance, bringing together more than 1,000 distinguished representatives charged with implementing institutional change in higher education computing programs. Find out more at http://www.ncwit.org/aa.
About NCWIT
The National Center for Women & Information Technology (NCWIT) is a non-profit community of more than 600 universities, companies, non-profits, and government organizations nationwide working to increase women's participation in computing and technology. NCWIT equips change leaders with resources for taking action in recruiting, retaining, and advancing women from K–12 and higher education through industry and entrepreneurial careers. Find out more at http://www.ncwit.org.
NCWIT receives significant financial support from Strategic Partners NSF (the National Science Foundation), Microsoft, Bank of America, Google, and Intel, as well as from Investment Partners Avaya, Pfizer, Merck, Turner Broadcasting Systems, Inc., AT&T, Bloomberg, and Hewlett-Packard.
About Microsoft Research
Founded in 1991, Microsoft Research is dedicated to conducting both basic and applied research in computer science and software engineering. More than 1,000 Ph.D. researchers focus on more than 55 areas of computing and openly collaborate with leading academic, government, and industry researchers to advance the state of the art of computing, help fuel the long-term growth of Microsoft and its products, and solve some of the world's toughest problems through technological innovation. More information can be found at http://research.microsoft.com.