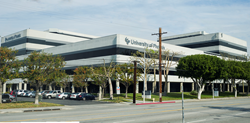 "The decision to open up a new office was a fairly easy one, there are hundreds of people out there suffering, and we want to be here to help them." - Dr. Straw
(PRWEB) February 17, 2015
Optimal Health Straw Chiropractic Inc. is excited to announce the Grand Opening of their newest office located in the greater South Bay area. Gardena, home to Optimal Health Straw Chiropractic Inc's newest destination, is nestled just South of Los Angeles, and will serve as a central and convenient location for Peripheral Neuropathy sufferers across the region.
After an overwhelming amount of feedback and demand from their offices further South, Optimal Health Straw Chiropractic Inc, has decided to expand and offer yet another treatment center, in addition to Glendale, located in the greater Los Angeles area.
Peripheral Neuropathy is a condition in which nerves degenerate, causing a wide range of symptoms such as sharp pain, tingling, numbness, and if not treated it can eventually lead to amputation of the limb. Many patients take medication, which only masks the pain and does very little to aid in relieving the root of the problem. Optimal Health Straw Chiropractic Inc. offers a safe, non-invasive treatment, which has been cleared by the FDA for the potential improvement of Neuropathy symptoms.
Through the use of non-invasive therapy, along with certain dietary modifications, Optimal Health Straw Chiropractic Inc. works in tandem with their patients, in efforts to improve their health and aid them on their unique and individual road to recovery.
"The decision to open up a new office was a fairly easy one," said Dr. Straw D.C., founder of Optimal Health Straw Chiropractic Inc., "there are hundreds of people out there suffering, and we want to be here to help them. We are always excited to meet new people, and if we can be a part of helping improve their life, we would be delighted to!"
Their newest location opens on Tuesday, February 16, 2015, following one week after their local dinner seminars educating individuals on Peripheral Neuropathy and providing options for treatment begin in the South Bay area.
For more information on Optimal Health Straw Chiropractic Inc., or to book your spot at a local seminar, please call 855-459-9399 or visit http://www.optimalhealthsc.com.