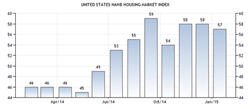 purchase mortgage applications will probably remain weak until tax season is over.
Chicago, IL (PRWEB) February 17, 2015
Lenders like Peoples Home Equity are looking forward to an eventful week of housing data.
Tuesday, February 17th
On Tuesday, the latest NAH Housing Market Index will be reported. According to TradingEconomics.com, this report "is based on a monthly survey of home builders. They are asked to rate current sales of single-family homes and sales expectations for the next six months and to rate traffic of prospective buyers." A index value "over 50 indicates more builders view sales conditions as good than poor." For the month of April 2014 the NAHB index was at 46, it was last reported as 57 in January 2015. The highest index reading has been 78 while the lowest was 8. The market consensus is that the index number gets announced at 58. Peoples Home Equity does not expect any number higher than 58 given that the market is currently in its winter slump stage.
Wednesday, February 18th
On Wednesday, the Mortgage Bankers Association will release is weekly survey results showing changing in the number of mortgage applications. Last week, applications declined -9% but the total share of purchase loan applications grew versus refinance applications (this was not surprising since mortgage rates rose overall for the week ending on February 6th). Peoples Home Equity thinks purchase mortgage applications will probably remain weak until tax season is over. Americans want to show the earnings of their new jobs or higher wages in 2014, they are going to complete their 2014 tax forms first before applying for a home loan. Thus, Peoples Home Equity expects a surge of applications come late March.
Just after mortgage applications are reported, housing starts and building permits will be announced. Housing started increased 4.4% in January and building permits increased just 0.5%. As shown on TradingEconomics.com, the consensus for February is that housing starts decline -1.74% and building permits grew 0.94%. Lenders like Peoples Home Equity view a negative consensus on housing starts as opportune. If housing starts are reported as positive, the market may really get positive, if housing starts are reported in the red, perhaps more than the expected decline, then the market may not be so disappointed.
Stay tuned for all of the housing data releases this week as lenders will be watching the numbers closely. Also, if in need of a mortgage, contact a Peoples Home Equity loan officer today at: 262-563-4026