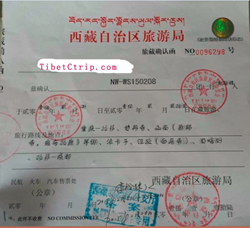 To get Tibet travel permit actually is as easy as ABC with Tibet Ctrip Travel Service.
Lhasa, Tibet (PRWEB) February 23, 2015
A Tibet visa, known to some as a Tibet travel permit, is required for foreign travel groups entering Tibet. Those new to Tibet travel in 2015 frequently have lots of questions about permits, what kind of Chinese visa is needed, and what they need to do to ensure a smooth experience once they get to Tibet. Tony Yang of Tibet Ctrip Travel Service-TCTS (http://www.tibetctrip.com) has been operating tours for over 12 years and shares the information travelers need via YouTube Tibet Visa.

Tony begins by clearing up confusion surrounding the documentation needed to enter Tibet. The Tibet group visa is required only for those arriving from Nepal; this functions as a Chinese visa but is only valid in Tibet. A regular Chinese tourist visa is needed for anyone entering from China. The Tibet travel permit itself is required no matter how or where travelers enter.
Next, Tony breaks down the documents and personal information travelers need to submit. It is very important that this information matches group members' passports and visas.
Finally, Tony shares a bit about himself and TCTS. Having done business in Tibet for over 12 years, they employ highly knowledgeable native Tibetan guides who are passionate about sharing their culture. Their drivers are also native Tibetans who have a safe record and know the roads well.
While the procedures and documentation required for traveling in Tibet can seem a bit overwhelming at first, travelers can take comfort in knowing that a licensed travel agency, like TCTS, will take care of all the legal legwork. Just be sure that each group member submits copies of their passport and Chinese visa, along with the required personal information, at least 10 days before arrival. The travel season is coming up quickly so now is the time to start planning a tour!