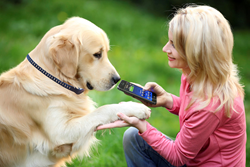 This technology represents a real game changer in the pet industry
Ventura, CA (PRWEB) February 18, 2015
Today, High Tech Pet Products, Inc. unveiled its new technology based pet products for 2015. This includes its patent pending Bluefang® all-in-one Remote Dog Training, Bark Control and Invisible Fence collars that give pet owners a powerful new tool to train their dogs and control the collar's other features in real time, directly from a smart phone. According to company president, Nick Bonge, "This new technology represents a real game changer in the pet industry. It not only gives pet owners a wide range of advanced pet training capabilities all in one collar but, technology allows wireless downloads of new firmware giving its products the ability to change and improve over time adding new features and functions without additional purchases." The company states that in just a few months Bluefang has become one of the nation's fastest growing new pet product lines and claims that Bluefang collars are now among the nation's largest selling dog training collars. The company also introduced its new line of Bark Vaporizer™ citronella anti-bark collars.
Founding in 1986, High Tech Pet has been the company behind many of the major innovations in pet technology, having introduced the first sonic bark control collar, tone command remote training, electronic dog fencing using humane Pulsed Proportional Stimulus™ and the company's flagship product, the Power Pet® Fully Automatic, pet door which the company claims is the nation's largest selling dog door.
For 2015, High Tech Pet, one of the dominant players in online pet products marketing, is focusing on expanding its sales in brick and mortar stores by offering exciting new products not found anywhere else and is introducing bold and distinctive new retail packaging. According to Bonge, "This new product line encompasses the entire field of electronic pet training, bark control, dog containment and pet doors giving distributors and retailers a fresh and superior alternative to some tired old brands." The company reports that the new product line is rapidly finding favor among retailers who want to appeal to a new and growing generation of younger, tech savvy pet owners.