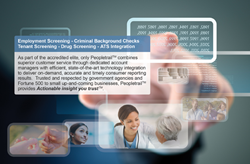 Peopletrail was established with a commitment to always personalize service by focusing on the human touch, compliance, credibility, and advanced technology to each of our valued clients.
SLC, UT (PRWEB) February 17, 2015
Peopletrail celebrates 10 years in business. In February 2005 the executive team of Peopletrail brought together their collective experience in the background and screening industry and believed that there was a better way to support the growing number of clients interested in improving their hiring processes. The founding team was witnessing diminishing value provided to customers as companies sought to aggressively expand and acquire already existing accounts with little regard to personalized service and care.
"It was, and remains, difficult to watch companies lose focus on providing value and personalized care to customers as they seek to quickly and aggressively capture clients and increase short-term revenue", stated Wallace T. Davis, President and CEO of Peopletrail. "Peopletrail was established with a commitment to always personalize service by focusing on the human touch, compliance, credibility, and advanced technology to each of our valued customers, no matter how large or small. It's this human touch that we believe provides each of our valued clients the accuracy and personalized care they deserve."
As part of it's 10-year anniversary celebration, Peopletrail is providing a free gift to all potential customers that receive a customized, complimentary consultation through the end of March 2015.
Founded with humble beginnings, Peopletrail is now recognized as one of the fastest growing and leading providers of employment screening, ATS integration, drug screening, criminal background checks, tenant screening, & corporate security solutions.
Some milestones celebrated by Peopletrail for the 10-year anniversary include:

Peopletrail established – February 2005
Hired first employee – March 2005. Started in a small one-room office with three employees.
Expands to seven employees and larger office space – 2006
Moved into current office – March 2009. Provides Peopletrail the environment for additional staffing and significant growth.
Signed on 500th customer – May 2010
Achieves NAPBS accreditation – October 2010. This accreditation makes Peopletrail one of only 2% of companies in the industry that are accredited.
Expands services and launches new company web site – June 2013
Launches nationwide employee drug prevention and screening program – August 2013
System integration with Arbiter Sports – May 2014. Offers athletic assigners and leagues the ability to request background checks as part of their officiating eligibility process.
Personal background check reporting provided to individuals directly through the Peopletrail.com site. – May 2014
Achieves Oracle validated integration with Oracle Taleo Enterprise Cloud service – August 2014 This integration with Oracle provides Oracle Taleo Enterprise Cloud service customers the ability to select Peopletrail as their employment screening partner directly through Oracle Taleo Enterprise Cloud.
Completes Goldman Sachs 10,000 Small Businesses Program – January 2015
Customers can learn more about Peopletrail and schedule a complimentary consultation by visiting the company's web site at Peopletrail.com or by calling the company directly at 866.223.6623
About Peopletrail
Peopletrail is a leading provider of custom employment, tenant and drug screening solutions, criminal background checks, ATS integrations, and corporate security services.
As part of the accredited elite, only Peopletrail combines superior customer service through dedicated Account Managers with efficient, state-of-the-art technology integration to deliver on-demand, accurate and timely consumer reporting results. Trusted and respected by government agencies and Fortune 500 to small up-and-coming businesses, Peopletrail provides actionable insight you trust.