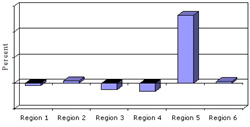 The total market for remediation technologies is anticipated to expand from nearly $61.7 billion in 2014 to $80.5 billion in 2019.
Wellesley, Mass. (PRWEB) February 17, 2015
BCC Research (http://www.bccresearch.com) reveals in its new report on environmental remediation technologies that it has been quite successful in cleaning many contaminated sites in the most developed economies of North America, Western Europe, Japan and Australia. However, when considering the emerging economies of the world, it is clear that there exists equally large—if not greater—future potential liabilities stemming from contaminated sites, as many of these sites have yet to be cleaned.
At a global level, the total market for remediation technologies is expected to grow at a modest but healthy compound annual growth rate (CAGR) of 5.5% from 2014 through 2019. With this growth rate, the total market is anticipated to expand from nearly $61.7 billion in 2014 to $80.5 billion in 2019.
China, Latin America and the Caribbean, and the Asia-Pacific region can be predicted to grow more quickly than the global average. Expansion in the remediation technologies markets in China is expected to proceed from strong investment in cleanup of contaminated sites across the country by municipal governments, as well as by the central government through its allocation of several billion dollars over the next few years for cleanup projects around the country.
Between 2014 and 2019, the total global population is projected to increase by as many as 370 million people, to reach a total of more than 7.5 billion. As a result of this substantial population growth, coupled with ever increasing per capita demands, global consumption of thousands of different goods and services will continue to see substantial development. To satisfy this mushrooming global demand, private industry is continually expanding, becoming more specialized and increasingly globally integrated. This rising demand will continue to drive a global expansion in both aggregate capacity and productivity.
"The world's most developed economies have been the biggest drivers of the markets for remediation technologies historically and will remain strong moving forward; but they exhibit slow to modest growth," says BCC Research analyst Bryan Boots. "In the emerging economies, the total size of markets is unlikely to overtake those in more developed nations at any time in the near future, but their proportional importance will increase as they grow comparatively richer in coming years and decades."
Global Markets for Environmental Remediation Technologies provides an understanding of the global industry in terms of interaction among key factors driving and inhibiting market growth, regulatory schema, technological categories and trends in new technological development, patents, and various market dynamics.
Editors and reporters who wish to speak with the analyst should contact Steven Cumming at steven.cumming(at)bccresearch(dot)com.
About BCC Research
BCC Research publishes market research reports that make organizations worldwide more profitable with intelligence that drives smart business decisions. These reports cover today's major industrial and technology sectors, including emerging markets. For more than 40 years we've helped customers identify new market opportunities with accurate and reliable data and insight, including market sizing, forecasting, industry overviews, and identification of significant trends and key market participants. We partner with analysts who are experts in specific areas of industry and technology, providing unbiased measurements and assessments of global markets. Recently selected as the world's greatest market research company, BCC Research is a unit of Eli Global, LLC. Visit our website at http://www.bccresearch.com. Contact us: (+1) 781-489-7301 (U.S. Eastern Time), or email information(at)bccresearch(dot)com.