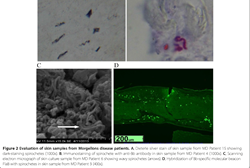 This most recent study demonstrates the true infectious aspects of MD, something that was "missed" by the CDC. Cindy Casey-Holman, RN
Austin, TX (PRWEB) February 17, 2015
The Charles E. Holman Morgellons Disease Foundation (CEHMDF) is pleased to announce the newest peer reviewed journal paper on Morgellons Disease (MD) titled, "Exploring the link between Morgellons Disease and Lyme disease: detection and identification of Borrelia burgdorferi from Morgellons Disease patients", published in the open access journal BMC Dermatology. The major medical paper bares detailed data about MD and proposes an appropriate classification for the disease.
Morgellons Disease is a multi-system medical condition characterized by novel skin manifestations, overwhelming and life-impacting fatigue, GI disturbances, an array of insidious neurological deficits and other systemic symptoms. The uniquely distinguishing characteristic of Morgellons Disease (MD) is the presence of microscopic subcutaneous fibers sometimes referred to as filaments within the skin. Lighted microscopy (60x minimum) enables visualization of these unusual fibers/filaments, often-colored red, blue, white or clear, embedded in open skin lesions as well as beneath intact "healthy" skin.
According to Cindy Casey-Holman, RN, director of the foundation, "This most recent study demonstrates the true infectious aspects of MD, something that was "missed" by the CDC." The resulting data confirms that Morgellons is a true somatic illness associated with disseminated Borrelia burgdorferi. Pursuant to research results, treatment should focus on the infectious quality of the disease.
"Morgellons disease is an infectious illness with thousands afflicted," said Marianne Middelveen, lead author of the report. "With this detailed scientific study we have shown the somatic nature of the disease and put the final nail in the coffin of delusional infestation".
An international team of co-authors and contributors collaborated in this paper including: Veterinary microbiologist Marianne J. Middelveen from Calgary, Alberta, Canada; Internist Dr. Raphael B. Stricker from San Francisco, CA, USA; molecular biologists Cheryl Bandoski, Katherine Filush and Eva Sapi from University of New Haven, CT; Internist/Dermatologist Dr. Peter Mayne of Laurieton, NSW, Australia: and molecular biologists Yean Wang, Agustin Franco and Jennie Burke from Australian Biologics, Sydney, NSW, Australia.
The exciting research described in this study will be presented at the 2015 Medical-Scientific Conference on Morgellons, March 28 & 29 in Austin, TX. For more information about attending the conference, please visit http://www.MorgellonsDisease.org.
About The Charles E. Holman Morgellons Disease Foundation...
The Charles E. Holman Morgellons Disease Foundation is a 501©3 nonprofit committed to advocacy and philanthropy in the battle against MD. An all-volunteer organization based in Austin, TX, the Holman foundation is the singularly recognized authority on Morgellons disease and stands alone in funding scientific research of this condition. Executive Director Cindy Casey-Holman, RN leads the foundation, named for Charles E. Holman, a pioneer in the fight against MD. Currently, there exist neither grants, nor any other public or private funding sources to support research for this disease. The CEHMDF is proud to have funded this new medical paper without federal grants or funds but with all donations coming from the public.