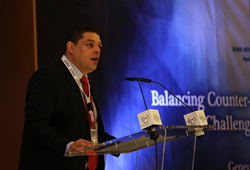 Geneva, Switzerland (PRWEB) February 20, 2015
Recently, the first day of the GNRD's International Conference on Terrorism and Human Rights took place with over 200 participants, including officials from 67 governments, experts, and international organisations. GNRD President Dr. Loai Deeb had an opening speech where he introduced a new cooperation agreement in the field of counter-terrorism.
Dr. Deeb proposed this cooperation agreement dealing with the fight against terrorism, including the development of international cooperation and coordination mechanisms and the fight against the root causes of terrorism. The convention further proposed the training of workers in this field to improve their capabilities and work on the protection of the human rights system, as well as creating a new international Council for combating terrorism to ensure that safe, swift action and legislation can be implemented. Additionally, the unification of international will in the face of terrorism, and the development of appropriate international programs were also dealt with in this draft convention. He also stressed that the convention's council should not interfere or be inconsistent with any international institution, limit their powers, or infringe on any national will.
Dr. Loai Deeb said that two years ago, the GNRD teams noticed a high escalation of terrorism becoming the primary cause of direct and indirect human rights violations. GNRD deployed many field experts around the world from areas of relative stability to areas of conflict and aggression. The results were critically analysed in order to preserve humanity, and innate dignity.
Dr. Deeb pointed out that the world has witnessed, in the last two years alone, 62,312 terrorist incidents. In the last 15 years there were 151,618 terrorist incidents. With the media only covering 39% of these terrorist incidents, there are many forgotten victims. He also stated that victims of terrorism were predominantly in 8 countries historically but today they are scattered in 151 countries.
He added that 23% of the world's youth are likely to be involved in terrorist activities because of poverty, identity crisis, and other deep rooted reasons not at the top of international agenda. Many of these youths are likely to be involved in reactionary violence based on race, religion and creed as a self-protection mechanism.
The President of the Global Network for Rights and Development (GNRD), Dr. Loai Deeb highlighted the direct impact of terrorism on the economy where losses have reached '5 trillion US Dollars'. He also mentioned that the stated expense of terrorism is able to solve the unemployment problem in each country.
Also, Dr. Deeb mentioned that the blacklists by countries and institutions of organisations that practice terrorism are numerous and different as there are over 1812 organisations under terrorism blacklists. Over 13 million people work for these organisations and over 80 million people are affected.
He added that 10 years ago, the geographical area controlled by the terrorists in the world did not amount to more than 30 thousand square kilometers, compared to today, where they are in full control of approximately 12.5 million square kilometers of area of the world. The indirect influence of terrorists extends beyond these boundaries to cover about 66 million square kilometers.
Dr. Deeb noted that terrorist activities have caused 1,763,802 injuries and 632,716 deaths, whereas the number of displaced people around the world has reached 18 million.
He called on stakeholders to follow robust cooperation based methods in order to fight terrorism by broadening the scope of responsibility and cooperation of sectors such as intellectuals, writers, artists, civil society and other relevant parties. Also, Dr. Deeb warned that new generations will not forgive us when they know that women are sold in the markets in front of all the world.
At the end of his speech, the President of the Global Network for Rights and Development (GNRD) referred to the proposal as just a first draft and the idea is subject to enrichment and development.