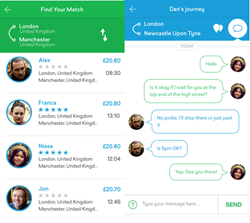 Norwich (PRWEB UK) 17 February 2015
Liftshare.com – the nation's original and largest car share network - has launched its official mobile app on Apple devices.
The free tool was named The Guardian's top travel app for February 2015. It offers UK drivers and those without access to a car more money-saving freedom than ever before.
It follows the UK's latest rail hike, which sees the price of an open single from London to Manchester hitting a staggering £93*, while the same journey on Liftshare costs around £20.
Consumer watchdog Which? has also revealed that UK rail commuters are unhappy with their service. Liftshare gives them a cheaper, cleaner and social alternative to trains.
The new iOS app empowers Liftshare's 420,000-plus members with greater visibility and reach, enabling drivers to quickly post details of their car journeys within a few taps, while those who need a lift can get to destinations with ease.
Liftshare is a green, sustainable travel choice that is more affordable than app-based taxi alternatives, because it remains true to the sharing economy ethos and makes car sharing available to everyone.
The new app enables travelers to simply enter a destination – be it a place of work, a trip to visit family or friends, a festival or sports event, and then see which drivers are going their way.
Users choose the most-suitable driver using in-app messaging and verified profiles along with user reviews. Once happy with their selection, passengers can confirm payment with one simple tap.
The new Liftshare app can be downloaded for free on App Store now, and is also available on Google Play.
-ENDS-
Notes to Editors:
*Source: Trainline.com
Additional features

On the day of your lift, reminders and departure updates take the hassle out of travel. Cashless payments can help those strapped for cash at music festivals or sports fixtures get home with ease.
The app keeps you in control – confirm your payment with one tap when you are happy with your lift, and leave driver reviews to help other members make their choice.
Post details of your journey online and set a fair price using our clear, automatic recommendations. Payment alerts show when passenger funds have cleared.
Save on the cost of fuel during your regular commute, road trip or driving holiday while meeting like-minded people.
Using Liftshare doesn't affect your insurance – as your passenger is helping cover the cost of your existing journey, but not making you a profit. Enjoy peace of mind with our app.
Your car, your rules: Prefer non-smoking? Don't like your radio tampered with? Specify rules when posting your journeys for smooth sailing!
Liftshare.com is part of the sharing economy, a global sector of new forward-thinking sites and charities that strives to make the world a more engaged, social, affordable and eco-friendly place through collaborative consumption.
Liftshare was conceptualised by founder Ali Clabburn, after posting lift requests on University forum boards in the late '90s. It now provides green travel solutions for local councils, University sustainability departments, music festivals and nationwide retail chains in a B2B capacity.
The site strives to help UK citizens banish transport poverty and social isolation by getting them travelling on the road together in a collaborative environment.
Further information regarding Liftshare and the sharing economy, interviews with the team and app details can be provided upon request.
Please contact:
Dave Cook
Outreach & Engagement Manager
david(dot)cook(at)digitaslbi(dot)com
+44 207 063 6640