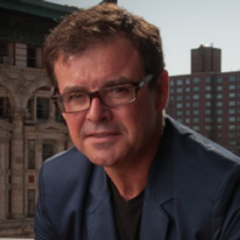 Paul is planning to share a combination of real-world examples, what's on the immediate horizon and what's going to be possible in the future.
LOUISVILLE, KY (PRWEB) February 18, 2015
Paul Price, an accomplished speaker and thought leader on technology and its role in 21st century marketing, is set to give the opening keynote presentation at the Interactive Customer Experience (ICX) Summit, to be held June 28-30 in Chicago.
Price's presentation is entitled "The Wow Factor of Interactive Customer Experiences."
In today's competitive landscape, it's difficult to stand out. Retailers and brands are turning to immersive digital experiences, first with retail labs, followed by flagship stores. Price will talk about how innovative companies are harnessing the power of digital screens to deliver real-time content and information, as well as new technologies such as transparent displays and multiple methods of interactivity, such as touch, gesture and RFID.
As CEO of Creative Realities, Price helps retailers and brands use the latest technologies to improve their shopping experiences. Under his leadership, Creative Realities has grown to become a leading designer, builder and manager of unique retail experiences enabled by innovative combinations of mobile, computer, communications and display technologies. Clients include Macy's, NineWest, adidas, Bank of America and Estee Lauder.
Among other recognition, Price was awarded Ad Age's A-List membership as well as The Internationalist's Innovator Award. He also has a forthcoming book called Ready, Reset, Go due out in the second quarter this year.
The ICX Summit is being produced by Networld Media Group, publisher of Retail Customer Experience, Digital Signage Today and Kiosk Marketplace, among others.
"We're thrilled to have Paul keynote our event and set the tone for an exciting two days," said David Drain, senior vice president of events for Networld. "Paul is planning to share a combination of real-world examples, what's on the immediate horizon and what's going to be possible in the future. In his case study examples, he'll discuss why those projects were successful and what ingredients you need to have for a successful in-store interactive experience."
This exclusive event is reserved for executives from businesses that are interested in utilizing interactive technologies to enhance the customer experience. This includes:
● Banks / Credit Unions
● Colleges / Universities
● Entertainment Venues / Arenas
● Government Agencies
● Hospitals / Healthcare Facilities
● Hotels / Resorts
● Public Transportation
● Restaurants
● Retailers
Sponsors of the event include DIRECTV, Intel, Omnivex and the Digital Screenmedia Association.
Early bird registration is now open through March 6, 2015.
ABOUT NETWORLD MEDIA GROUP
Founded in 2000, Networld Media Group is a leading business-to-business (B2B) media communications company specializing in digital media, associations, and events in the mobile, self-service, digital signage, retail, food service, and financial services industries. Online properties include ATMmarketplace.com, DigitalSignageToday.com, FastCasual.com, KioskMarketplace.com, MobilePaymentsToday.com, PizzaMarketplace.com, QSRweb.com, RetailCustomerExperience.com, VirtualCurrencyToday.com, and ChurchCentral.com. The company produces executive summits in the fast casual, retail, ATM, and mobile payments industries. Its custom media division develops premium content and marketing services for associations such as the ATM Industry Association.