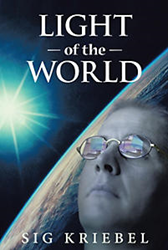 [The author] has definitely found a unique way to discuss faith as the evidence of things not seen.
Lafayette, IN (PRWEB) February 19, 2015
CrossBooks is pleased to announce the nationwide release of "Light of the World," an intriguing science fiction novel by first-time author Sig Kriebel. It is the futuristic tale of an astronomer who discovers a bizarre phenomenon in space that could stand to either refute or verify everything scientists or people of Christian faith believe.
In the year 2024, Frank Venture has already achieved worldwide fame for his revolutionary theories about light as well as his outspoken religious skepticism. Now working in a secret research establishment in Arizona, the astronomer is part of a project to re-map the universe using new technology. In the process, he stumbles upon light that is bent in space and returning to Earth two thousand years later. In fact, his complex project is observing the last days of Jesus Christ.
Venture believes this enigmatic symbol in the stars will lead to his finest hour—a chance to provide clear evidence that Jesus never rose from the dead, proving the basis of Christianity as false. However, his continuing research is being hindered by a plasma cloud that blocks the vision of his sophisticated telescopes. Gradually, the entire cast of characters is challenged to rethink the relationship between faith and sight.
"Light of the World combines my love for God and the story of Jesus with my interest in science fiction," said Kriebel, who majored in both English and Biblical studies at Azusa Pacific University in Azusa, CA. "It asks the question, 'Do I have to see in order to believe?' The main characters learn in different ways that there is more to reality—to God—than they have ever known. God is always working—often mysteriously, creatively, in ways we do not expect."
Paul Mikos, publisher at CrossBooks, added, "Sig has definitely found a unique way to discuss faith as the evidence of things not seen. In an age dominated by science and a rationalistic mindset, his story explores the limits of such an outlook and holds it up in contrast with the biblical view of reality."
Kriebel, who began writing Light of the World thirty years ago and says he was stylistically influenced by American authors Ernest Hemingway, William Faulkner and F. Scott Fitzgerald, ultimately describes his story as being "about a man learning the world is not as simple as he thought; that there is more to life than what he can see or measure, even with his fabulous technology."
Light of the World is now available online through CrossBooks on LifeWay.com, as well as Amazon, Barnes & Noble, and other major retailers.
About the Author
Sig Kriebel is a high school English and journalism teacher in Indiana, where he lives with his wife and four children. He has also worked as a newspaper reporter and editor and was previously an engineering writer at Purdue University. Kriebel is a graduate of Azusa Pacific University (Azusa, CA). Light of the World is his first novel.
An imprint of B&H Publishing Group, CrossBooks offers a unique blend of traditional and self publishing. It serves a variety of Christian writers, from established authors to Christian leaders and first-time authors. As a ministry of LifeWay Christian Resources, CrossBooks is committed to unwavering principles of excellence and Christian faith. For additional information, please visit CrossBooks.com.