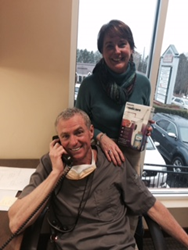 Our offices believe in helping animals, so hosting events that benefit the local shelter pets is a cause we support.
Marietta, GA (PRWEB) February 18, 2015
The 2015 Valentine's Shelter Pet Raffle was a tremendous success at Verde Pointe Dental and Marietta Vet Clinic. The dentists and veterinarian raffled tickets for spay and neuter efforts of Tigg Neuter Project. Tish Allen won the Sonicare Airfloss Pro after purchasing a ticket for a dollar. Six tickets were available for five.
"Our offices believe in helping animals, so hosting events that benefit the local shelter pets is a cause we support," says Dr. Kimmerling. One hundred percent of all events goes directly to Tigg Neuter Project, a local nonprofit organization for unwanted animals. "Tish was thrilled to win the raffle especially because it helps support a dog and cat charity."
Ms. Allen stopped by the office park to pick up her prize, take pictures and thank everyone for hosting the event. The Sonicare Airfloss Pro was chosen as the prize, as it is a highly effective flosser by Philips Sonicare. It was donated by the cosmetic denists at Verde Pointe Dental. The office sells Airfloss and Philips Sonicare toothbrush in the office.
The Tigg Neuter Project is the recipient of the raffle monies. Vicki Hammonds will put the monies towards spay and neuter efforts immediately. "The project is grateful to both the dentists and veterinarian," says Ms. Hammonds. Tigg Neuter Project has worked with both offices on successful fundraising events before, and looks forward to the many to come.
Tigg Neuter Project is a group of volunteers dedicated to making a difference through spay and neuter of pets and feral cats. It works under a 501(c)3 organization, half the way home, inc. to help stop the number of animals coming into animal control facilities with spay/neuter education while donating funds to individuals who can't afford to spay and neuter. Tigg Neuter Project also provides rabies vaccine for all animals, ear tipping and yearly distemper vaccine to homeless community cats.
Kirk Kimmerling DDS and Suzanna Aguilera, DMD are Marietta cosmetic dentists and Marietta emergency dentists that are paving the way for the future of dentistry. The office is technologically sophisticated in not only equipment and procedures, but also developing dental materials via Kimmerling Holdings Group, LLC and fiteBac SkinCare, LLC, Dr. Kimmerling's biotechnology firms. The Marietta emergency dentists invite new patients to meet their exceptional staff and experience and benefit from state of the art dental care. The office offers a broad range of services from teeth cleaning, teeth whitening, dental whitening, dental veneers and Marietta dental implants, Marietta dental veneers, and dental bridges, dental crowns, dental fillings, tooth implants and veneer Marietta and Marietta root canals.
Marietta Vet Clinic and veterinarian, Julian Peckich DVM, are pleased to welcome dogs and cats to the pet clinic, dog clinic and cat clinic. Dr. Peckich provides veterinary services for the Marietta, Kennesaw, Dallas, Acworth, and Powder Springs, GA. It would be their great pleasure to welcome dogs and cats to the pet family for cat vaccinations, dog vaccinations, sick animal relief, laboratory testing, pet teeth cleaning, veterinary dentistry, wellness exams, spay and neuter clinic and mobile veterinary services.