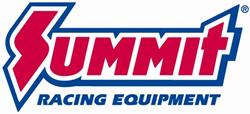 Tallmadge, OH (PRWEB) February 27, 2015
The Nitto NT 555 tire features a contact patch much larger than a typical tire, which contributes to tenacious grip on the tarmac. Three grooves run through the center of the tread pattern to channel water efficiently, and lateral groves push standing water away. The grooves work together to significantly reduce the chance of hydroplaning.
Nitto NT 555 Tires were featured on Episode 2 of PowerNation's Truck Tech. The Truck Tech guys chose a set of 295/45-18s for their 1955 Ford F-100 project truck
The tires have a unique rubber compound, formulated specifically to increase grip and tread life. The high, rigid tread blocks ensure stable contact with the road. These tires are an ideal choice for daily drivers, working well in both wet and dry conditions.
Nitto NT 555 Tires come in sizes up to 22 inches in diameter. Many other tread and section widths are available as well.
Summit Racing Equipment
http://www.SummitRacing.com
1-800-230-3030