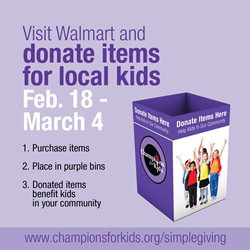 Fayetteville, AR (PRWEB) February 18, 2015
According to the 2010 U.S. Census, over 16 million American children live in poverty, making hunger a daily challenge for families in need. Champions for Kids, General Mills, Kellogg's, Emerald and Kettle Chips have joined forces to make it simple for communities to provide basic resources for students through in-store donations. From February 18 to March 4, U.S. customers at more than 3,600 participating Walmart stores can purchase snacks and breakfast items for children and place them inside designated donation bins. All donations made in-store will stay in the local community and be distributed through school districts or youth-based organizations.
In addition, Champions for Kids, General Mills, Kellogg's, Emerald and Kettle Chips will provide 13 awards, totaling $45,000, to school districts and participating youth-based organizations based on the total number of donated items collected in each store. The Snacks for Students program is part of SIMPLE Giving, a Champions for Kids program that seeks to make it simple for shoppers to purchase and donate items children need. For more information on the program, visit http://championsforkids.org/simplegiving.
In 2013, SIMPLE Giving began in 24 central Arkansas Walmart stores and was extended to Walmart stores across 11 states in 2014. The Snacks for Students program is the first of several campaigns to launch nationally, with the goal to provide resources for more than 10 million children in 2015.
About Champions for Kids
Champions for Kids makes it simple to give kids in your community the resources they need to thrive. Since 2004, Champions for Kids has served more than 5.4 million children across all 50 states through in-store donation campaigns, service projects and community events. For more information, please visit http://www.championsforkids.org.
Social Media:
Hashtags - #SIMPLEGiving
Twitter - @champions4kids
Facebook - https://www.facebook.com/ChampionsForKids