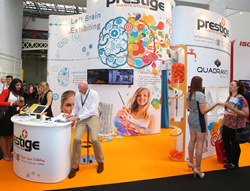 (PRWEB UK) 17 February 2015
2014 was an extremely successful year for the South Coast based exhibition stand contractors, Quadrant2Design, largely due to a fantastic show in the form of Marketing Week Live in June 2014.
A two day event, bringing together the absolute best in the business, is the ultimate mix of insight, advice and connections. As well as the top exhibitors, the show hosts a Marketing Academy Bootcamp, and the Marketing Week Live Leader's Network.
Quadrant2Design had nine Prestige Exhibition Stands exhibiting at Marketing Week Live 2014. Varying from smaller single sided designs through to high-level, showcase filled curved masterpieces with incorporated meeting areas and storage rooms, the designs on show truly demonstrated the flexibility of the modular, reconfigurable nature of the system.
With high-quality, seamless effect graphics each of the nine stands had a completely custom look, without the custom price.
Alongside these nine commissioned stands, Quadrant2Design also showcased their own exhibition, themed around 'Left Brain – Right Brain.' This clever design demonstrated that investing in a Prestige Exhibition Stand is both a logical and creative decision, combining ingenious business sense with artistic freedom.
The exhibition gave the Quadrant2Design team the chance to meet with customers new and old, as well as pick up their own marketing inspiration and keep up to date with the latest news from the marketing world.
Because of the success of last year's Marketing Week Live, Quadrant2Design will be returning to the 2015 show, and this year, they are offering a fantastic deal for other exhibitors.
A completely free, no obligation 3D and graphic design proposal will be provided, allowing customers to get a real feel for their stand.
As well as a 3D design, customers will have free hire of the Prestige Exhibition System for the period of the show, and free installation and dismantling of the stand, by Quadrant2Design's own installers, before and after!
On average, this is a 50% saving compared to standard exhibition stand hire. Effectively, the only cost incurred will be the production of the reusable graphic panels!
For more information about this offer, the Prestige Exhibition System or for a 3D design proposal, please email designteam@quadrant2design.com.
Examples of the Prestige Exhibition System can be found here