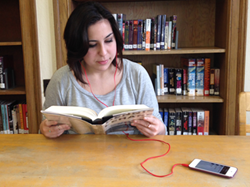 AIM Academy and Learning Ally hope to continue a broader, ongoing dialogue about how to improve our schools and student achievement, and increase literacy among all of our students
Philadelphia, PA (PRWEB) February 19, 2015
AIM Academy, a nationally recognized grade 1-12 college preparatory school which provides educational opportunities for children with language-based learning differences and Learning Ally, a nonprofit organization serving students and individuals with visual and learning disabilities, announced that AIM Academy's third annual Research to Practice Symposium, "Connecting the Dots Between Literacy Research and Practice," will be open to educators and schools nationwide for the first time, via a live interactive online broadcast, available on computers and mobile devices.
Scheduled for Monday, March 16th, the event provides a rare opportunity for education's most innovative experts to meet and share ideas with education practitioners and policy makers from across the country in a highly interactive live summit and national gathering. The symposium boasts an equally impressive list of attendees, representing multiple school districts from across the country, state education policy makers, foundations and literacy programs.
Presenters at AIM's Research to Practice Symposium include:
-Ken Pugh Ph.D., director and president of research; senior scientist, Haskins Laboratory, Yale University.
-Brett Miller Ph.D., director of reading, writing and related learning disabilities program; National Institute for Child Health & Human Development
-Laurie Cutting Ph.D., director of education and brain research lab; Vanderbilt University
-Steve Graham Ed.D., Mary Emily Warner professor, Arizona State University, Mary Lou Fulton Teachers College
-Nancy Hennessy M.Ed., Director of Academic & Professional Practices, AIM; Past President of International Dyslexia Association.
"By bringing together so many key individuals in education, AIM Academy and Learning Ally hope to continue a broader, ongoing dialogue about how to improve our schools and student achievement, and increase literacy among all of our students," said Patricia Roberts, executive director of AIM Academy. "Our past two summits here in Philadelphia have been so successful that we wanted to make sure everyone who wants to attend and be heard has that opportunity. Now, through our live interactive broadcast we have a true national forum to reach everyone."
The AIM Academy Research to Practice Symposium, which will be available on demand for sixty days after the March 16th live event, includes the following for attendees:
-Online discussions bridging the gap between research and the classroom
-A full day of professional development
"Learning Ally is excited to partner with AIM Academy and AIM Institute to bring such cutting-edge research on literacy to the classroom so that teachers, across the country and the globe can experience the amazing speakers on the agenda – a true Mount Rushmore of researchers in the field of dyslexia and language-based learning disorders. They bring a wealth of knowledge and translate that to the practitioners in the classroom, so that students have a virtually uncapped education potential," said Paul Edelblut, vice president of education solutions at Learning Ally.
The event will be held on March 16, 2015, from 8:30am – 3:30pm EST, and for two months after the event. For more information and to register for the online symposium, visit LearningAlly.org/AIM4Literacy.
Additional questions or media inquiries can be directed to AIM4Literacy(at)learningally(dot)org or 609-243-7092.
About AIM Academy
AIM Academy, a grade 1-12 college preparatory school, provides extraordinary educational opportunities to children with language-based learning differences including dyslexia, dysgraphia and dyscalculia, utilizing research-based intervention strategies and an arts-based learning environment. In addition, the AIM Institute for Learning and Research is an international, multidisciplinary service delivery model, designed to bring the latest research and educational training opportunities to parents, teachers and professionals who work with children who learn differently.
About Learning Ally
Founded in 1948, Learning Ally has helped millions of K-12, college and graduate students, veterans and lifelong learners – all of whom read and learn differently due to blindness, visual impairment, dyslexia, or other learning disabilities. The organization provides community support for parents as well as extensive professional development and technology resources for teachers. Learning Ally's collection of 80,000 human-narrated audio textbooks and literature titles can be downloaded by students using mainstream smartphones and tablets, and is the largest of its kind in the world. As a 501(c)3 nonprofit, Learning Ally is partially funded by grants from state and local education programs and the generous contributions of individuals, foundations and corporations. For more information, visit LearningAlly.org.