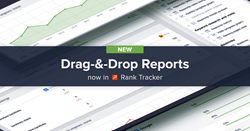 If our old reports were the Paint editor, our new ones would be the Photoshop app
(PRWEB) February 17, 2015
SEO software developer Link-Assistant.Com has introduced new reports to Rank Tracker, its keyword monitoring app. Rank Tracker users now have full flexibility changing their reports' look-and-feel as well as their contents. Besides, the new reports render well across devices due to them having responsive design.
"We are really proud of the new Rank Tracker reports," says Erin Madison, User Experience manager at Link-Assistant.Com. "You can now toy with almost any part of the report or create a custom-tailored one from scratch.
"If our old reports were the Paint editor, our new ones would be the Photoshop app," adds Erin.
The just-added Rank Tracker reports are only the beginning. The SEO software provider has plans to introduce similar "adjustables" to other SEO PowerSuite apps: SEO SpyGlass, WebSite Auditor and LinkAssistant.
*Rank Tracker Report Types - Overview*
Rank Tracker is an SEO tool by Link-Assistant.Com that tracks search engine rankings and performs keyword analysis.
Among other things, Rank Tracker provides detailed SEO reports that reflect the state of one's SEO, online visibility, competitor landscape, website traffic, and more.
Previously, Rank Tracker had 6 SEO report templates:
1. Keyword Rankings and Visibility
2. Competition Rankings
3. Keyword Rankings (grouped by keyword)
4. Keyword Rankings (grouped by search engine)
5. Keyword Research
6. Website Visitors
The old templates - including custom-built ones - will remain available in Rank Tracker, but one will no longer be able to edit their HTML code (which was a daunting task for anyone not web-design-savvy anyway).
The new report templates mimic the old ones in their essence, but offer a wide array of new customization mechanisms:
-A convenient WYSIWYG editor;
-Flexible data sorting;
-The ability to add or remove tables on the fly;
-The ability to rearrange sections by dragging and dropping them;
-Eight color schemes to choose from;
-Localization options;
-Responsive design.
Besides, a brand-new report template has been added – Domain Strength. This SEO report helps one visualize key domain statistics that could impact a site's standing in search.
A preview of the new Rank Tracker reports is available at http://www.link-assistant.com/news/new-rank-tracker-reports.html.
*About Link-Assistant.Com*
Link-Assistant.Com is an SEO software maker and the company behind SEO PowerSuite, a comprehensive set of tools that covers the entire SEO cycle. In 2012, the company released its first-ever social media endeavor, BuzzBundle, which is an SMM app for managing one's social activity across networks.