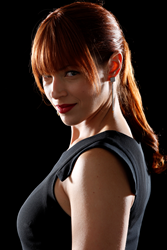 I never realized our distribution business was going to be at the forefront of creating software and servers that will launch a new level for film. -Amanda Righetti
(PRWEB) February 18, 2015
Amanda Righetti is appearing in the series finale of The Mentalist tonight, being aired on CBS in a two hour special starting at 8pm. Amanda stars as Grace Van Pelt in the award winning series. While this marks the end of an acting chapter in her illustrious career starting with The OC, she is looking forward to a new show for USA network and Legendary Pictures entitled The Colony.
Amanda is also working on the release of the feature film Cats Dancing on Jupiter through her production company, Bliss Sinema. Cats Dancing on Jupiter is being released online May 4 of this year. The visual quality will surprise those who are used to the HD format as this film is being released in full 4k quality.
"4k video was something my husband would hint about around Christmas time, and last year I bought him the GoPro hero4. I never realized our distribution business was going to be at the forefront of creating software and servers that will launch a new level for film. We originated in Red Raw which is essentially uncompressed 4k. We posted it this way and now we are presenting it this way. It's exciting."-Amanda
Cats Dancing on Jupiter is an erotic thriller starring Amanda as a girl living in Hollywood with her best friend, living a work-hard-play-hard lifestyle, but she has an extraordinary dark past from her home town in Iowa. It's ironic that Amanda goes from crime fighting using her brains to being a ruthless alluring femme fatale in Cats Dancing on Jupiter. Amanda Righetti went to San Quentin to study the criminally insane for her role in the film.
View Trailer: https://www.youtube.com/watch?v=cXTkFVhq4lc
Facebook: http://www.facebook.com/catsdancingonjupiter