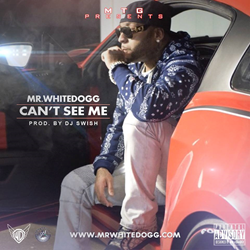 Los Angeles, CA (PRWEB) February 17, 2015
Coast 2 Coast Mixtapes presents the release of the "Can't See Me" single by Mr. WhiteDogg. This track is currently available to stream and download on the Coast 2 Coast Mixtapes website. Vocal features include TeeFlii, Joe Moses, Mishon.
"Can't See Me" is the second single from the newly released "Tunnel Vision 2" mixtape. The artist already shook the grounds of Los Angeles & Inland Empire last year when he dropped the first project of the Tunnel Vision series which featured the hit single "Death Around The Corner" ft. RJ & Nipsey Hussle along with many others. WhiteDogg is making a statement in this west-coast flavored joint, along with paying homage to Tupac Shakur by featuring a sample of his classic "Cant C Me" with DJ Swish providing the instrumental.
Born on February 16, 1988, Mr. White was blessed to the amazing family of Althea and Bruce White. He was born into a family of three sisters and two brothers. They all grew up in the projects of Harbor City, CA. Like many projects in LA the apartments he and his siblings grew up in were engulfed with drugs, gangs and crime. Selling drugs was something he ended up doing just to make sure his family received the luxuries in which he felt they deserved.
At the age of sixteen he discovered another passion to help him cope with life. Hip hop music had made its way into his life and the love he had for it flourished as he began to create his own. His intelligence and strong stage presence, plus his ability to create stories about different subjects earned the young rapper the respect of the fans that will eventually cause the industry to take notice. In 2013 Mr. White Dogg linked up with childhood friend, George Wright, to form My Team Go Entertainment (MTG ENT).
As a direct result of his lyrical content and stage presence, the streets were buzzing with the name of "Mr. White Dogg". Showing no intentions on slowing down he continues to dominate the streets with his vicious lyrics and incredible ability to produce great music. Working hard to continue getting his name known he is currently still booking events all over Southern California and Las Vegas.
Stay up to date on Mr. WhiteDogg via Twitter at: @MTGMRWHITEDOGG
About Coast 2 Coast Mixtapes
Coast 2 Coast Mixtapes are the most widely distributed mixtapes in the world, with over 100 million downloads/plays generated by over 200 volumes officially hosted by major artists. Coast 2 Coast has a solid reach in the new music industry with a digital magazine, DJ coalition, industry tips blog, yearly convention, and more. Coast 2 Coast Mixtapes represents a unique opportunity for artists of all urban genres, from major to indie. For more information, visit http://www.coast2coastmixtapes.com.