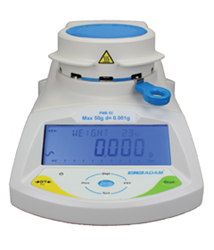 Moisture analysis is a vital step in research and development and manufacturing in many industries.
Danbury, Conn. (PRWEB) February 18, 2015
Adam Equipment, a leading provider of balances and scales, offers its PMB moisture analyzer for applications needing to measure the amount of moisture in a sample.
Moisture analysis is used in the initial product development phase, and also during the testing of production samples to ensure the product meets or exceeds quality standards. The procedure involves placing a specimen in the chamber and heating it to a set temperature. An energy-efficient halogen lamp in the PMB heats and dries the sample, and then calculates the amount of weight loss to get the moisture content.
With smart features developed specifically for simple operation and quick response time, Adam Equipment's PMB moisture analyzer is available in two models. PMB 53 provides results at 0.01%/1mg with a capacity of 50g, while PMB 202 provides results at 0.05%/10mg with a capacity of 200g.
The PMB sets a new standard for data collection in moisture analysis. An automatic test-setting function enables easy recall for frequent testing of the same items without additional user programming. USB and RS-232 interfaces provide effortless computer, data logger and printer connections. A second USB port allows storage of test programs and data on a flash drive. PMB moisture analyzers are self-contained, needing neither additional software nor a network connection to take readings. Users have total freedom to collect data on a production floor or anywhere power is available.
A single 400-watt halogen bulb heats samples in 1 °C selectable increments. Three heating options give users the flexibility to customize test methods and temperatures for different materials. The PMB provides rugged metal housing, a pan lifter to easily remove samples, automatic external calibration, capacity tracker and leveling bubble. Its rapid response time and intuitive features make this moisture analyzer ideal for a range of applications.
About Adam Equipment
For more than 40 years, Adam Equipment has designed and manufactured precision balances and scales for professionals worldwide in the laboratory, medical, education, industrial, food, animal/veterinary and jewelry markets. Adam is committed to offering an extensive selection of weighing equipment with best-in-class value. Headquartered in the United Kingdom, the company has strategically established offices in the United States, South Africa, Australia and China to provide product support and speedy delivery to distributors. For more information about the company and its products, go to http://www.adamequipment.com.